Following a string of "racist" attacks on African students in India, the Association of African Students in India (AASI) has threatened to lodge a formal complaint with the African Union (AU).
Just this week, several Africans have been targeted in racially-motivated attacks, particularly in Greater Noida in the northern state of Uttar Pradesh. In the latest case, a Kenyan woman was attacked and beaten in the street by unidentified men in Greater Noida, a city of over 100,000.
This comes after a mob attacked a group of Nigerian students on 27 March, accused of cannibalism and murder following the recent death of a local boy.
The ASSI this week also shared an unverified video appearing to show a mob armed with sticks and stools, repeatedly beating and kicking an African man inside a mall.
Describing the recent attacks on Nigerians as "barbaric racism" against Africans in India, the AASI said it will file a formal complain to the AU, and send a report on the rampant discrimination to all heads of states in African countries.
AASI urged the Indian government to take concrete measures to secure the lives of all African students in India.
"Africans are not safe in this country. They are considered cannibals. This is a matter of public perception here," Samuel Abiye Jack, president of the ASSI told press. "We are tired of the appeasement and promises made by the Indian government and therefore we will be taking stringent actions."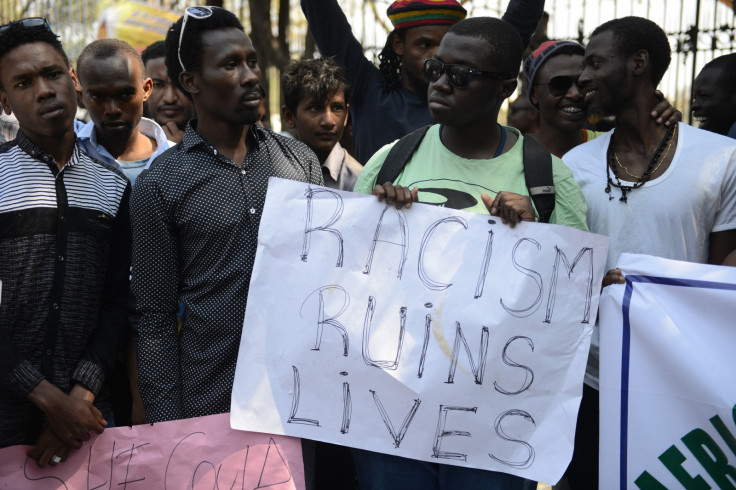 The association said it would demand African states cut all bi-lateral trade with India if its government fails to protect African students and ensure maximum security in areas where they live, according to the Times of India newspaper. Additionally, the ASSI said it would urge all African students in their respective countries to avoid choosing Indian as a study destination.
"We will ensure that all the local media houses in our respective countries get details of the growing racism which African students are facing in India. We will also send a detailed report on the barbaric racism African students are facing in India to the high levels of all African governments and heads of state," the association said.
India has condemned the recent attack on Nigerians in Greater Noida, with Minister for External Affairs Sushma Swaraj asking the local government to launch an investigation into the incident.
An African student, Sadiq Bello earlier tweeted to Swaraj: "@SushmaSwaraj as an international student in Noida, you need to act fast as living for us in Noida is becoming a life threatening issue."
The ASSI advised all African students in Greater Noida to remain indoors until sufficient security measures are taken. The African student association announced it would hold a peaceful demonstration in Hyderabad, the capital of southern Telangana state.