Manchester United star Anthony Martial was hurt by the club's decision to take the No 9 jersey and hand it over to Zlatan Ibrahimovic, according to his agent. The former Swedish international arrived at Old Trafford earlier in July after ending his contract with Paris Saint-Germain.
Martial was signed by Louis van Gaal in the summer of 2015 as he arrived from AS Monaco. The Dutchman handed the France international the No 9 jersey. It was later given to Ibrahimovic for this season, forcing the 20-year-old to take the No 11 jersey.
The forward's representative Philippe Lamboley revealed his client was "surprised" and "disappointed" for a few days. He also suggested the whole incident was disrespectful towards Martial.
"I am not going to lie about it, it hurt him when Manchester United took the number nine jersey off him. He was surprised by it and he was disappointed for a few days," Lamboley told RMC, as quoted by Goal.com.
"But he is a professional. He knew that he had to fight back. Personally, I did not accept the decision, which I thought was disrespectful and misplaced. I let the United hierarchy know how I felt. You do not do things like that. We have turned the page, but not forgotten about it."
Martial has struggled under Jose Mourinho this season as he has managed only one goal in all competitions, which came during United's 1-1 draw against Stoke City at Old Trafford. His dip in form has seen him being dropped from the France squad for the upcoming international fixtures.
France coach Didier Deschamps suggested that the former Monaco man has failed to "match the expectations" which is why he was omitted from the national squad. Despite this, Lamboley admitted that Martial is happy at United and revealed the forward shares a professional relationship with Jose Mourinho.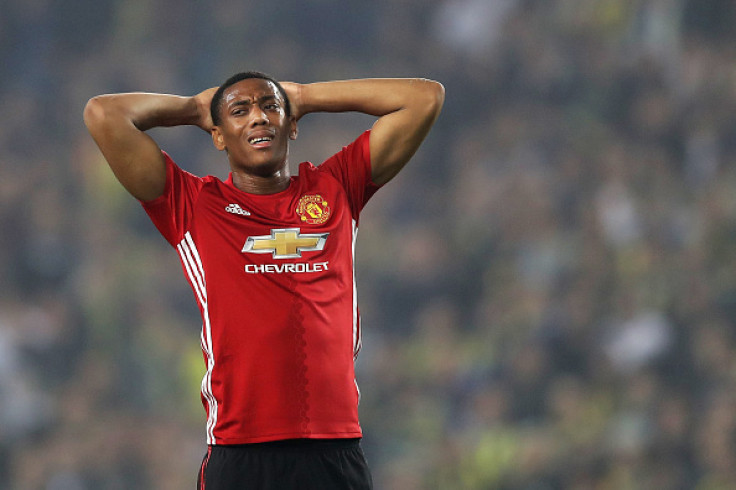 "It is not true that Anthony has a bad relationship with Mourinho. They have a professional relationship. I'm sure Mourinho will get the best out of him, just like Louis van Gaal did before him," he said.
"Anthony is happy at United. We are trying to get out of a bad spell, he is no longer smiling all the time. People who know him know that he likes to smile.