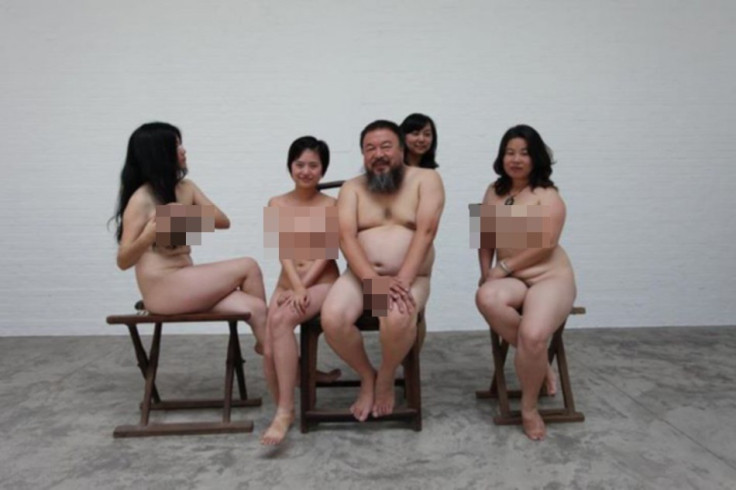 Fans of Chinese artist and dissident Ai Weiwei have taken to the web and posted nude pictures in protest against the authorities' accusations of pornography over pictures in which Ai poses nude along with four naked woman.
Angered by the new allegations, the fans posted nude pictures of themselves on a website called Ai Wei Wei Fans' Nudity -- Listen, Chinese Government: Nudity is not Pornography".
The move is apt to be viewed controverisally in China, where nudity is often considered as a taboo.
Supporters of the artist say they decided to set up the site after Ai's videographer, Zhao Zhao, was questioned by police on Thursday in Beijing, where the authorities accused him of spreading pornography online.
Ai had previously been detained for 81 days after he was accused of tax evasion. His arrest drew international condemnation and he was later released, though he was ordered to pay a 15 million yuan (£1.5 million) tax bill.
Last week Ai deposited 8.45 million yuan (£845,000) into a government account after his supporters helped him raise the money, but he still contests the tax bill.
His supporters claim the authorities' interrogation of Zhao Zhao is further proof that they want to intimidate the artist and those who work with him. They insist that the motives behind the interrogation are purely those of conducting a political vendetta.
"This is not pornography. If they see nudity as pornography, then China is still in the Qing Dynasty," which was overthrown 100 years ago, Ai wrote on Twitter in defence of the pictures.
Meanwhile, Zhao Zhao said Beijing police interrogated him for four hours on the motives behind the photographs and accused him of their being obscene.
Wen Yunchao, who posted two nude pictures of himself on the fans' website, criticised the investigation of Ai's assistant.
"This is a matter that has made many people very indignant," Hong Kong-based Wen said. "Because the interpretation of people's naked bodies in itself is an individual freedom and a form of creative freedom. Also, we don't see any pornographic elements in (Ai's) photographs. So we are using this extreme method to express our protest."
Many of the pictures are also accompanied by comments criticising the Chinese regime.
"Grandpa, is this pornography?" wrote a user, who was photographed bare bottomed by a wall bearing the words the "'89 political turmoil", referring to the June 4, 1989 Tiananmen massacre, in which the government was accused of conducting a severe crackdown on protesters.
The police had also questioned Ai about the nude photographs while he was detained, the artist told Reuters. He acknowledged that the authorities might view the photos as an act of rebellion.
"We did it because it was a way to remove fear and the feeling of isolation," Ai told Reuters. "Because fear and the feeling of isolation are defining characteristics in certain societies."