Air 2015: World's first helicopter drone entertainment show to debut in Amsterdam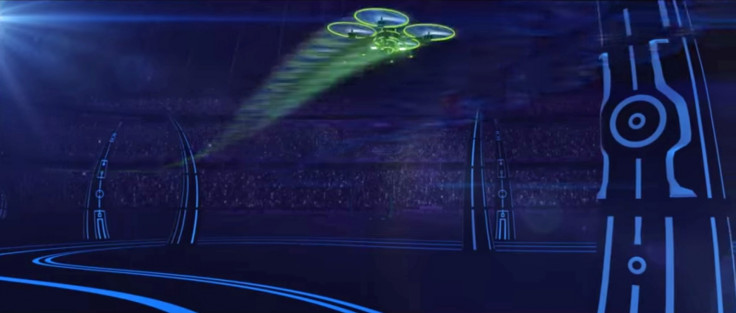 A Dutch event planner has announced that it will be launching the world's first live helicopter drone entertainment show in the Netherlands this year.
Amsterdam-based event promoter Fjuze is working together with the Royal Netherlands Air Force to put on AIR 2015, a 3D projection show featuring hundreds of unmanned aerial vehicles (UAVs) flying in formation together to produce ballet and circus stunts in the air.
There will be races where drone operators will have to prove their skills by flying their UAVs through 3D projected hoops and obstacles, as well as performances featuring video effects, music, projections, and laser effects and it will all be taking place at the Amsterdam Arena.
The campaign for AIR 2015 has only just launched today (16 February) with a trailer, so there is no news about when the show will run, but people can sign up for their newsletter to find out when tickets will go on sale.
The event organisers have posted a video to AIR 2015's Facebook page of a test flight of helicopter drones lit by LEDs flying in formation in the air, made by Austrian drone company Ars Electronica, to give people an idea of what they can expect:
Fjuze aren't the first people to think about using helicopter drones as an entertainment tool, however.
In September 2014, Canadian theatrical troupe Cirque du Soleil released SPARKED – a 10-minute-long video that used helicopter drones dressed up as decorative lamp shades that mischievously fly around a lamp repairman.
The video was shot on a closed sound stage and used drone software programmed by Swiss research institute ETH Zurich.
Hollywood was also given the go ahead to use helicopter drones for filming in September, provided the UAVs were used in closed film sets and operated by three people at all times.
Disney filed patents in August 2014 with the US Patent and Trademark Office for several designs that would see drones being used to levitate giant floating puppets and projection screens, as well as to replicate the scene with thousands of floating lanterns from the 2010 film Tangled.
Most recently in the US, the FAA has proposed new commercial helicopter drone rules that allow UAVs to be operated in the sky as long as they stay below 500ft in the air and fly at a speed of less than 100mph within the line of sight of the operator.
© Copyright IBTimes 2023. All rights reserved.