An independent film company based in New York has shot the world's first pornographic film using a HD camera mounted on a flying quadcopter drone.
Brooklyn-based Ghost+Cow Films, the brainchild of film-makers Brandon LaGanke and John Carlucci, has released a three-minute short film entitled Drone Boning that was filmed using an unmanned aerial vehicle (UAV) is free on Vimeo for anyone to watch.
The film features several straight, gay and lesbian couples having sex al fresco in a wide range of scenic locations, including in an apple farm, in the mountains, on a beach, in the middle of the forest and even on the side of a highway.
"We wanted to explore the whole idea of drone privacy and strikes – this idea of 'make porn, not war,'"LaGanke told Vice.
"It started as a kind of funny commentary on privacy and voyeurism but it quickly became a conceptual grounding."
In keeping with their theme, although the film shows writhing bodies, it is shot from a great distance, which makes the bodies often quite difficult to spot, and the film-makers see it more as art than as pornography.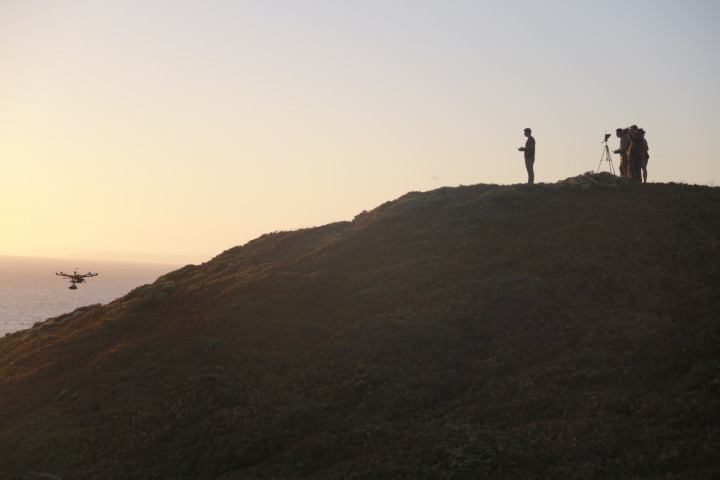 "We wanted to see the artistic value of this perspective," said Carlucci.
"It's an omniscient point of view, really. We did these shots in places where you couldn't see much from the ground, but then you put a drone in the air and you can see what's happening."
While legislation of UAVs continues to be a touchy subject in the US, amateur drone enthusiasts have already been getting into trouble for flying drones over suburban neighbourhoods as peeping toms, and although this hasn't yet been proven, drones are starting to be shot down by concerned citizens.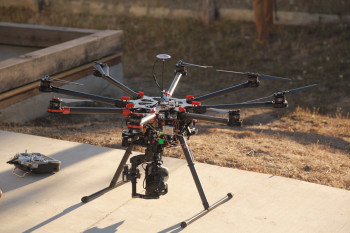 Companies also continue to lobby the Federal Aviation Administration (FAA) for permission to use drones for a wide variety of business use cases, from Amazon's PrimeAir drone package delivery service to Disney's giant puppets and synchronised floating lights, and Cirque du Soleil's magical floating lampshade indoor performing arts concept.
The film-makers stress much of the sex in their film is simulated, and one of the most controversial shots - a couple having sex in the back garden on a residential property - was cut out because it was too difficult to film.
"One of the shots was supposed to be in a quiet neighbourhood where you see a barbecue happening in someone's backyard. Then, the camera pans over and there's people f*****g in the next yard over," LaGanke said.
"I would never shoot a real porn like this. If you can't masturbate to it, man, it's not a good pornography film."