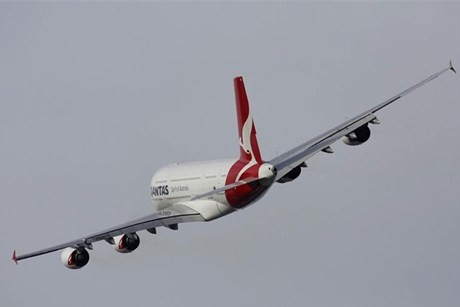 Qantas Airways, the Australian flag-carrier, snatched the world's gaze back towards the ailing airline industry when it posted its first full year net loss for 17 years.
Global economic headwinds and turbulent fuel prices have rocked the airline industry, forcing losses and redundancies at some of the world's most famous firms.
As a result of Qantas's AU$244m (£161m) net loss, the airline cancelled an order for 35 new Boeing 787-9 aircraft destined for its Qantas International business, a blow for the manufacturing side of the industry.
"Qantas continues to practice disciplined capital management and, in the context of returning Qantas International to profit, this is a prudent decision," said boss Alan Joyce.
Joyce blamed global volatility.
Similarly International Airlines Group (IAG) has suffered over the past year, with its first half results showing a €390m (£306m) loss.
Job losses are inevitable, warned IAG chief executive Willie Walsh, as the company's full year outlook was slashed from breaking even to a loss in light of Spain's weakening, recession-hit economy.
IAG owns Iberia, the Spanish airline, as well as British Airways.
Iberia alone sunk to a €263m operating loss in the six months to June, as Spain sought a desperate €100bn recapitalisation of its dying finance sector, which has been hammered by a rapid unwinding of asset prices.
Spain also carries the eurozone's lamentable award for the highest unemployment rate at 24.6 percent, crushing domestic demand.
Air fuel price volatility
Both IAG and Qantas pointed fingers at the price of airplane fuel, which has soared higher and higher in recent months. IAG said its fuel costs had risen by 25 percent, while Qantas reported a record bill of AU$4.3bn, up 18 percent on the year before.
The same story echoes across the skies of the global airline industry.
One of the biggest problems for airlines trying to offset the fuel costs is that they have by-and-large failed to sufficient hedge against price instability - with most of the world's major air carriers protecting under half of their fuel costs against future price increases.
In the report titled The State of Airline Fuel Hedging & Risk Management, written by Mercatus Energy Advisors and Airline Economics, 43 percent of participants surveyed revealed they are content having a significant exposure to spot market prices and therefore potential price swings.
Global economic slump
As well as contending with volatile fuel prices, the global economic slump is also wreaking havoc in the airline industry.
Significant emerging economies such as India and China have seen their rapid growth slow, weighing heavily on export markets across the world and dampening output.
However Qantas's Joyce is optimistic about the outlook for airlines in Asia, saying the region "will continue to offer high growth potential as the middle class grows and travels".
Meanwhile the eurozone crisis rumbles on, depressing productivity across the single currency area, with the economic spill-over to consumers holding back would-be airline travellers, put off by their own dreary finances and inflating air ticket prices off the back of bloating fuel costs.
Similarly the US economy is facing its own difficulties, with talk from policymakers at the Federal Reserve of the need for more monetary stimulus.
UK airlines attack government over air passenger duty
In the UK, airline bosses blame taxation, such as the air passenger duty (APD), and the government for kicking the industry while it is down.
Chancellor George Osborne, ahead of his Budget speech for 2012, was warned over rising the APD and urged to scrap it in an open letter from airline chief executives, as well as union leaders.
"Until recognition is given to the immense value derived to the UK economy from air travel, and a more equitable tax regime is established, APD will continue to inflict economic damage to the industry and the UK economy," the letter said.
"In his Autumn Statement the Chancellor said the government aspires to having the 'most competitive tax regime in the G20' and that 'we shouldn't price British business out of the world economy'.
"Yet he has increased the tax on flying to a level unparalleled anywhere else in the world."
Osborne left these calls unheeded and hiked APD by 10 percent.
However the government has also asserted its commitment to the air industry by pledging £200m to it.
This will be around £120m in new investment, plus the £60m previously announced in the Budget and £40m to support research in advanced low-carbon engines being led by Rolls-Royce.
"I don't feel embarrassed to say we want to support this industry and that it is a winner," said Vince Cable, UK business secretary.