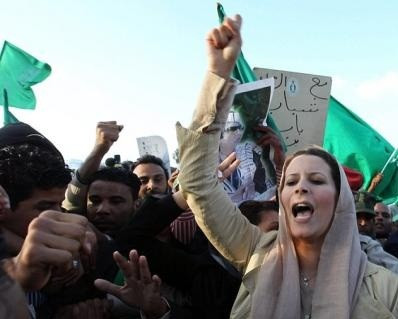 Muammar Gaddafi's daughter Aisha has this week repeated her calls for the overthrow of the Libyan transitional government. Is she positioning herself to be the leader of a Libyan counterrevolution?
In a message broadcast on a Syrian TV station, Aisha Gaddafi said the interim government in Libya "arrived with the NATO planes" and brought only destruction.
Her message came following the end of the traditional 40-day mourning period after her father's death.
In her new address she called for a revolt: "My father has not left, he is always among us. ... Don't forget the orders of your father urging you to continue fighting, even if you no longer hear his voice."
Supporting her father throughout the Libyan conflict, she had already made similar comments in September, warning, "Even if my father and my brothers are martyred, I will continue my fight against Islamic terrorists in Libya.
"Very soon I will appear in the media with my announcement of fighting the terrorists and al-Qaida in Libya as well in other countries in the world. Let Westerners and their mercenaries take note, Aisha Gaddafi will never bow to their evil conspiracy.
"I bear the blood of a heroic father and never in life have I ever learned to surrender."
But with the Algerian authorities now angered by her latest statement and warning they might take measures against her, Aisha Gaddafi might have to rethink her strategy.
Called the "Claudia Schiffer of North Africa" by the Arab press for her blond locks and good looks, Gaddafi's daughter was an asset to the colonel's former regime.
She trained in the Libyan army, rapidly attained the rank of lieutenant general and later became a lawyer.
That position saw her take part in the Iraqi trial of deposed president Saddam Hussein in 2004. While she was criticised for defending the Iraqi dictator, she soon restored her international image by throwing herself into charity work.
Thanks to her involvement in addressing issues relating to poverty, women's rights and AIDS in Libya, she was appointed as the United Nation Goodwill Ambassador for Libya but was stripped of her role in February.
With her brothers Mutassim dead and Saif al-Islam set to be tried by the new Libyan authorities, Aisha is the chief potential political heir of her father.
While Gaddafi supporters are likely to see her as one of the last standing figures of the clan, a return to Libyan politics seems for now unlikely as animosity towards her family and her father's regime were fully illustrated by his brutal death and the crowds that filed past his body to make sure he was no longer a threat to the new Libya.