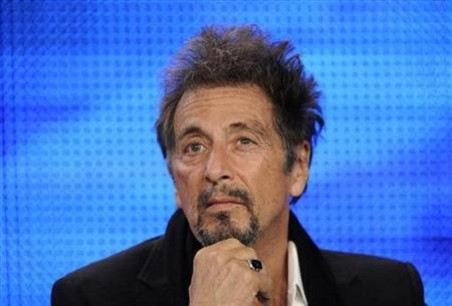 He is best known for playing drugs cartel boss Tony Montana in Scarface and a calculating mobster Michael Corleone in The Godfather trilogy.
But Al Pacino has revealed that his film career could have taken a completely different course if he had not rejected an offer from George Lucas.
The Oscar-winning actor revealed that he could have starred as Han Solo in Star Wars.
"It was mine for the taking but I didn't understand the script," he said during a rare interview.
Actors including Jack Nicholson, Chevy Chase and Bill Murray were also in the running for the role that would eventually kickstart Harrison Ford's career.
"I'm not a good judge of what's good," Pacino told TV presenter Emma Freud.

The 73-year-old method actor also admitted turning down the lead role in Pretty Woman, a part that could have softened his tough-man screen image dramatically.
His snub paved the way for Richard Gere to take on the role of millionaire businessman Edward Lewis alongside Julia Roberts in one of the most popular romantic comedies in movie history.
Pacino the Hollywood heavyweight credited himself with helping Bruce Willis become a superstar by turning down the lead in Die Hard.
"I gave that boy a career," he said.
Pacino gave fans an insight into his life and career at the London Palladium with an evening of conversation. His one-man Q&A show, A Night with Al Pacino, has played in New York and Sydney.