Al-Qaeda urges Muslims across the world to help Rohingya with weapons and 'military support'
The Islamist group has also threatened to "punish" Myanmar "for its crimes" against ethnic Rohingya minorities.
The al-Qaeda has come out in support of Rohingya Muslims, calling on all fellow Muslims in the world to back Myanmar's ethnic community with weapons and "military support".
In a statement on Wednesday, 12 September, the Islamist group also threatened to "punish" the Myanmar government "for its crimes" as religious tensions simmer in Myanmar leading to mass exodus of Rohingya.
"The savage treatment meted out to our Muslim brothers ... shall not pass without punishment," al-Qaeda said, according to the SITE monitoring group.
"The government of Myanmar shall be made to taste what our Muslim brothers have tasted."
Al-Qaeda's call to arms comes amid reports that nearly 400,000 Rohingya have fled Myanmar towards the Bangladesh border since the last week of August in the wake of recent violence in the restive Rakhine state.
The mass exodus follows the army's deadly response to an attack at military posts by Rohingya insurgents. While the government forces called it a "clearance operation" to eliminate any fighters it said might be hiding in the villages in Rakhine, the UN has accused the government of "ethnic cleansing".
"We call upon all mujahid brothers in Bangladesh, India, Pakistan, and the Philippines to set out for Burma to help their Muslim brothers, and to make the necessary preparations — training and the like - to resist this oppression," said the al-Qaeda group which was behind the 11 September, 2001 attacks on the United States.
Following al-Qaeda's threat, the Aung San Suu Kyi government has warned of possible bomb attacks in Myanmar, apparently even prompting the country's de facto leader to skip next week's UN General Assembly debate.
The Nobel laureate's office announced on Wednesday, 13 September, that due to the domestic security situation she had to cancel her overseas trip.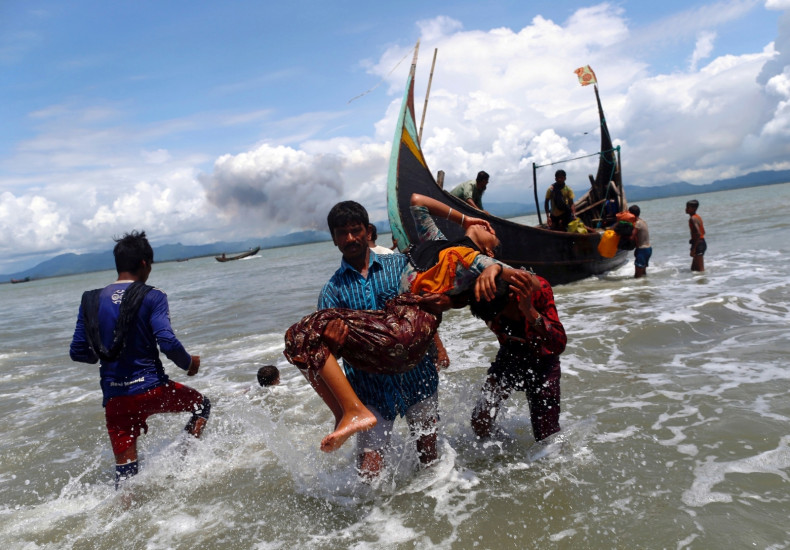 The UN Security Council is expected to hold a closed-door meeting on Wednesday, the second time since the crisis began on 25 August.
Matthew Rycroft, British ambassador to the UN, said he hoped the council would deliver a public statement agreed by all the member states.
Rights groups have condemned the council for not holding a public meeting, to which Russia and China would have an objection, Reuters noted.
China, on Tuesday, backed the Myanmar government for its efforts to restore peace in the country amid the ongoing crisis.
"We condemn the violent attacks which happened in Rakhine state in Myanmar... We think the international community should support the efforts of Myanmar in safeguarding the stability of its national development," China's foreign ministry spokesman Geng Shuang said.