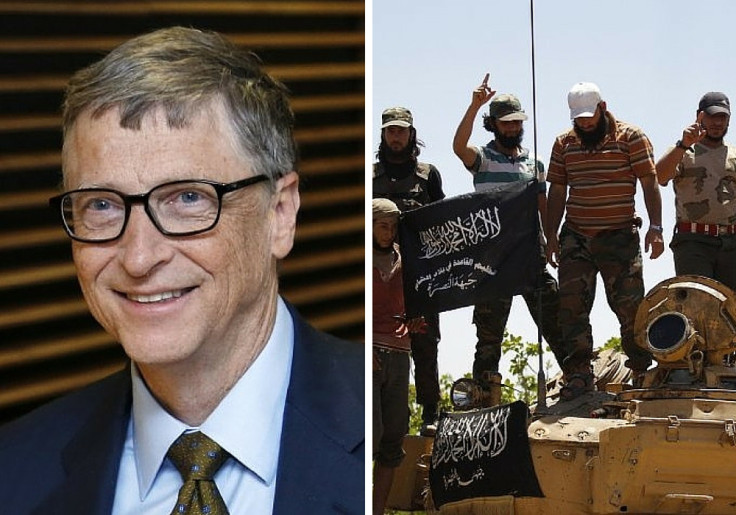 Al-Qaeda has once again called for the execution of Microsoft founder, Bill Gates, in an attempt to 'damage the US economy'. The terrorists made the threats in their official magazine, Inspire, which coupled the threats with mocked-up images of the billionaire covered in blood, according to reports on Monday (16 May).
A Yemen-based arm of al-Qaeda, known as al-Qaeda in the Arabian Peninsula (AQAP), said that other high-profile US businessmen should also be executed in the publication. It follows previous incitements contained in the magazine in April 2015, threatening Gates alongside Warren Buffet and former New York City mayor Michael Bloomberg.
The Middle East Media Research Institute (MEMRI) claim that they obtained a copy of Inspire, which provides information on carrying out targeted assassinations against potential targets. The threat also included images of a hooded man standing outside a luxury house, reports The Mirror.
It also quotes editor, Yahya Ibrahim, as saying : "The prophet ordered the killing of many criminal leaders using this method ... and here we are, following the footsteps of the prophet on how he dealt with his enemies and friends.
"We will never put down our weapons until we fulfil what Allah wants from us. We are determined to keep fighting and striking Americans with operations by organised jihadi groups and by Lone Jihad, (and) pursuing America in its homeland — by the will of Allah."
The terror group has seen their grip on power dwindling since their leader, Osama Bin Laden, was killed by US Forces in 2011, but the AQAP have embraced support in the impoverished south.
US drone strikes in Yemen in 2015 succeeded in eliminating a number of high-profile AQAP figures, including leader Nasser al-Wuhayshi, religious official Harith al-Nadhari, and ideologue and spokesman Ibrahim al-Rubaish. In the publication, AQAP reaffirms its priority is attacks on US soil.
Yemen has been a traditional stronghold of the AQAP since its inception in 2009. The al-Qaeda affiliate was formed by merging the Yemeni and Saudi wings of Osama bin Laden's networks. AQAP was involved in an attempt to bomb a US-bound flight in 2009 and also claimed responsibility for the 2015 attack on the Charlie Hebdo magazine in Paris.
On 8 May, Al-Qaeda leader Ayman al-Zawahiri urged rival militant groups in Syria to unite or risk death while describing fellow terrorists with the Islamic State (Isis) as "extremists". He also called on fractious jihadi groups in Syria to unite against Russia and "western crusaders".