The Nigerian army has arrested some militants believed to belong to the newly established group Niger Delta Avengers (NDA) in the oil-rich Niger Delta region. The group, which first came under the spotlight in February, has claimed responsibility for several attacks at oil pipelines across the region that partially halted oil production.
"This is to confirm the arrest of some suspected members of Niger Delta Avengers," army spokesman Rabe Abubakar was quoted by Reuters as saying. The announcement was made days after Chevron and Royal Dutch Shell closed at least two sites following attacks linked to the group.
The attacks came as Nigeria removed oil subsidy and increased petroleum prices by two-thirds, in a bid to curb an ongoing fuel crisis.
Who are the Niger Delta Avengers?
The group is the latest militant organisation to wage war against the Nigerian government due to perceived marginalisation in the Niger Delta. NDA, which has its own website, Twitter account and Facebook page, defines itself as a group of Niger Deltans who voted to start a "revolution to free Nigeria from the wicked administration".
It has warned that attacks against Shell and Chevron are "just the beginning", unless the government meets the NDA's demands, which included the unconditional release of Nnamdi Kanu, one of the leaders of a pro-Biafran movement thatdemands the independence of Biafran territories forcibly annexed to Nigeria during British colonisation.
President Muhammadu Buhari has accused the NDA of vandalism and warned that the Nigerian government would deal with the group in the same way as it is dealing with Boko Haram terrorists in the country's northeast.
British Foreign Minister Philip Hammond said Buhari needed to address the underlying causes of the conflict, amid fears a military confrontation could end in "disaster".
Speaking to IBTimes UK, counter terrorism expert David Otto warned the birth of this new group might result in a new conflict in Niger Delta, one of the most impoverished and underdeveloped areas of Nigeria.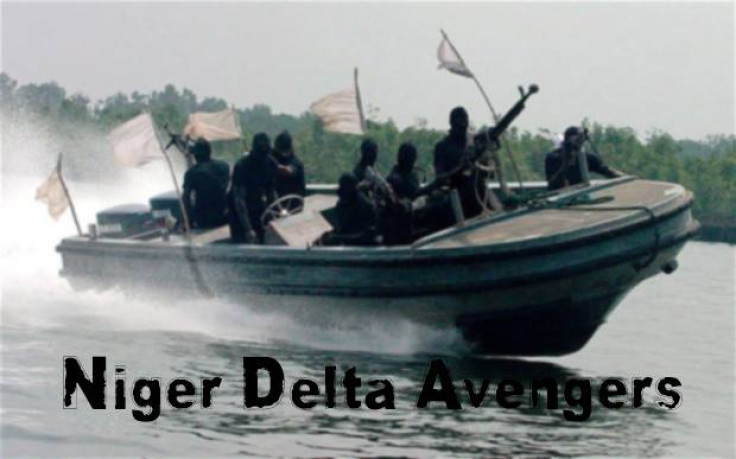 The birth of militan groups in Niger Delta
Militant groups in the oil-rich Niger Delta region took hold in the early 2000s following the deterioration of people's living conditions of, which was due to the increase of oil-related activities by foreign exploration corporations. Tensions flared up in the local communities as some ethnic groups felt they were being exploited and did not benefit from the presence of crude oil on their land.
The repeated oil spills that considerably damaged the environment and affected people's health further deepened the communities' frustrations. After being elected in 2015, Buhari extended a 2009 amnesty granted to 30,000 former militants in the area.
---
Nigeria up close: Check out our Flipboard magazine
---