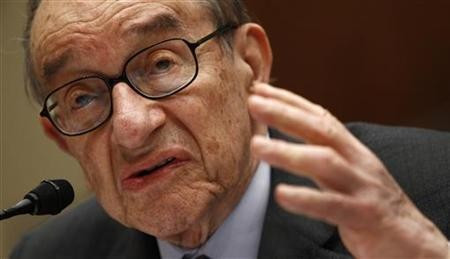 Political consolidation of Europe is the only way to rescue the euro, according to Alan Greenspan, former Federal Reserve Chairman.
"The only solution to the European crisis is political consolidation of Europe. I think we're gradually moving in that direction; in fact I know we are. The only issue is, will we ever reach that?" Greenspan said in an interview on CNBC television.
"The problems in Europe are the fiscal deficits of all the various countries that are involved," he added.
Calling Europe a leaking boat with holes, Alan Greenspan told CNBC that he did not believe in the financial or fiscal union of Europe.
"It's like a leaking boat in which we keep bailing it out, and we're very pleased with ourselves that we continue to keep bailing it out," Greenspan told CNBC on Friday.
"The problem is, we haven't fixed the holes yet, and unless and until we can do that, this situation is not going to get resolved," he added.
He said Europe's problems would be affecting the rest of the world including the US if the region did not come out with a solution to get over the crisis.
"My concern is that if Europe does not come out of this without some really serious problems, the rest of the world is going to be very troubled," he said.
Greenspan's comments came as European leaders concluded their 19th summit to find ways to solve the eurozone crisis in Brussels.
The end-June summit agreed on immediate relief to the stricken economies of Spain and Italy that eased the concerns of world markets for the time being.
The German parliament approved the fiscal pact on Friday and Chancellor Angela Merkel vowed to overcome the region's economic crisis.
Merkel told parliament that the passage of the fiscal pact is a signal to overcome the European sovereign debt crisis in a sustainable way.