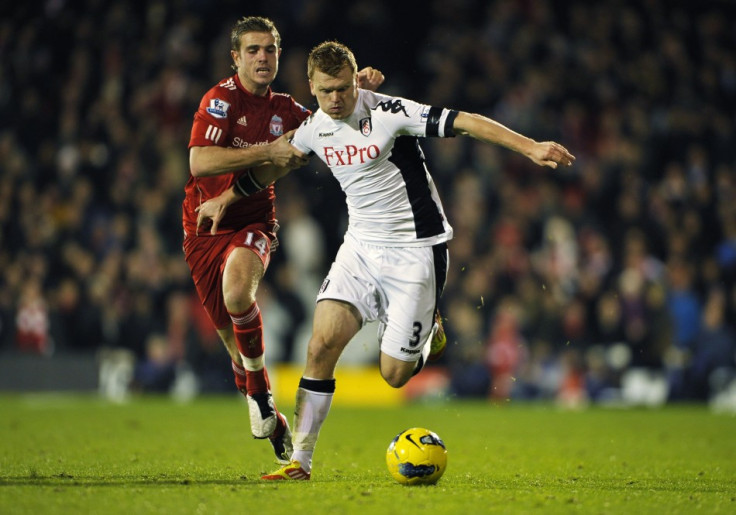 Alan Hansen believes Jordan Henderson will excel in central midfield this season and has urged Liverpool manager Kenny Dalglish to give the midfielder an extended run in the side.
Henderson has made most of his 15 Reds' appearances on the right-wing since completing his transfer from Sunderland in the summer.
However, Hansen has backed the England Under-21 international to fill the void left by injuries to Lucas Leiva and Steven Gerrard at the heart of Liverpool's midfield.
The Anfield legend highlighted Henderson's impressive display in Liverpool's recent 1-0 victory over QPR and believes the best is yet to come from the young playmaker.
"I thought it would be interesting to see who Kenny puts in the centre of midfield in the absence of Lucas, Steven Gerrard and Jay Spearing," Hansen told Liverpool FC magazine. "Jordan Henderson was selected and he did well.
"Ultimately, Jordan will be a central midfield player for Liverpool. He can get box-to-box quite easily because he has a great engine on him.
"People tend to forget that Henderson is only 21 because he came from an established Barclays Premier League club in Sunderland, where he played almost 100 games."
Henderson joined Liverpool in June for an undisclosed fee (believed to be between £16-20m) but has largely been played out of position on the wing with Lucas and Charlie Adam impressive in the centre.
However, Lucas' knee injury means Henderson is likely to be handed an extended run as Adam's partner in midfield and Hansen insists the position is ideally suited to the player.
"He's just a kid. It's asking a lot of him to be at his best every time he plays, but because of the transfer fee paid there are people who have judged him too early.
"Back in August he scored a brilliant goal against Bolton. He showed what he could do that day and in the last three or four matches he has either come on and done well or started and played exceptionally well.
"I wouldn't have any worries at all about Jordan Henderson stepping into central midfield. He'll ultimately play there anyway and I expect him to stay alongside Charlie Adam at Villa Park on Sunday."