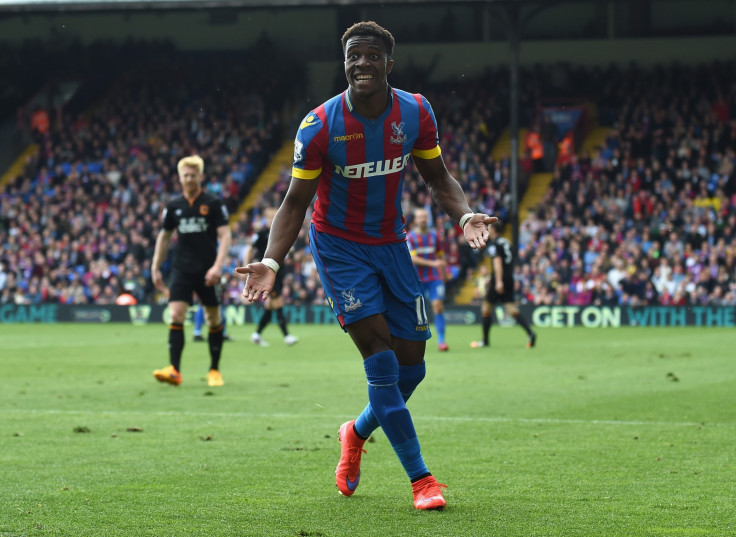 Crystal palace manager Alan Pardew believes that Wilfried Zaha's move to Manchester United was detrimental for his career as he was wasted on the sidelines, thus stunting this development. Zaha has been a regular part of the Palace first team but was hauled off at half time against Tottenham last week as he was not able to affect the game over the course of 90 minutes.
Zaha signed for United in 2013 but failed to get much game time and was sold to Palace in January this year where he has been making steady progress. The former Newcastle manager is incensed by the way the bigger clubs exploit talent and cited examples of Manchester City, who signed Scott Sinclair and Jack Rodwell, only to leave them on the bench.
"Sometimes I think these big clubs take players too early and they're literally taking talent without really consideration to how it's going to work in the team," Pardew said, as quoted by the Mirror. "Manchester City you could look at a number of players – Scott Sinclair, Jack Rodwell- it's very difficult to get it back," he added.
"You've taken a very important year out of someone's career.Therefore, my job is to get him to understand the level of the Premier League and how to perform consistently. There's no doubt he's good enough for the Premier League. But consistently week in week out, effecting the game, scoring goals, assists, this is where he will be measured," The Chrystal Palace manager said.
Zaha put in a commendable performance in Palace's 4-1 win over Charlton in the third round of the Capital One Cup, notching up an assist and creating a myriad of clear cut chances. And Pardew believes, "He's one of those players that doesn't react badly to situation like getting taken off at half-time. I like working with Wilf. He is someone I can help because he is someone who wants to be a great player."
"Wilf has done a lot of things well since I arrived at this club. His defensive attitude has been on the money. His ability on the ball is on the money. He's a very good player, one of the best to work with on the ball.
"It's getting him on the ball which is the next phase for him and the end product," he concluded.