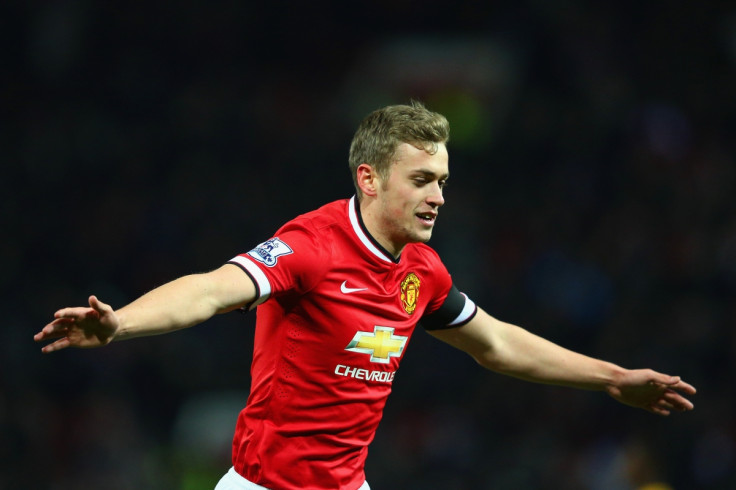 Manchester United academy star James Wilson has committed his long-term future to Old Trafford after signing a new deal until summer 2019, with an option to extend for a further year. United manager Louis van Gaal has expressed his delight about the agreement after describing the 19-year-old as "one of the brightest young English prospects with a keen eye for goal".
Wilson appeared to be on the verge of a loan move to a Championship side after seen his playing time restricted due to the arrival of Anthony Martial on deadline day in the summer. Earlier in September, Van Gaal confirmed his intention to send the striker to another club where he could play regular football and continue his development.
But after Wayne Rooney missed a couple of games due to injuries, the Dutch boss changed his mind, opting to keep the youngster in his ranks despite him not making a single appearance in the club's opening 10 games of the season.
Speaking ahead of the game against Sunderland on 26 September, Van Gaal clarified the situation, claiming he has postponed the decision about a loan deal until at least December, due to the busy fixtures ahead.
But whether Wilson stays or goes in the short term, the club have confirmed he remains in the long-term plans of the Premier League giants after announcing the player has put pen to paper on a new deal.
"James is one of the brightest young English prospects and we are delighted he has signed a new contract," Van Gaal said. "He is a very talented forward player and has a keen eye for goal. His development is continuing in the right direction and it is clear to see that he has a fine future ahead of him."
Wilson, meanwhile, has expressed his delight over the agreement while claiming he is looking forward to playing an integral part in the team.
"I have been at United since I was seven years old and have thoroughly enjoyed my time here so far," he said. "Growing up at the club has been an incredible experience and I feel it stands me in good stead for continuing my development as a Manchester United player. I am delighted to have signed a new contract and look forward to playing a part in the team for many years to come."