Just days after Albania triumphed over Romania in a match at the 2016 European Football Championship in France an Albanian hacker ramped up tensions by defacing the website of the Romanian Football Federation (FRF). The hacker also defaced the FRF's website for the Romanian Football Cup, which at the time of writing, had still not been restored.
A hacker going by the pseudonym nofawkX-al attacked the FRF website on 21 June, leaving a taunting message and an emblem of the Albanian flag. The website was restored shortly after the hack by the FRF's IT staff, who then notified the police about the cybercrime, Softpedia reported.
Romanian police reportedly considered the incident of some import and issued the following statement: "Following articles appearing in central media about a possible cyber-attack on the website of the Romanian Football Federation, DCCO of the Romanian Police took notice and will conduct research under the accusation of unauthorised access to a computer system and altering data integrity information."
IBTimes UK has reached out to the hacker, who responded confirming that "the attack against the FRF wasn't political or in any way. We Albanians respect Romania".
When asked whether he thought hacking the website was worth it, given the attention it has garnered from the local police, he said, "100% yes", adding that "they aren't the first". The hacker, however, refused to say whether he was working alone and if he is affiliated to any hacker group.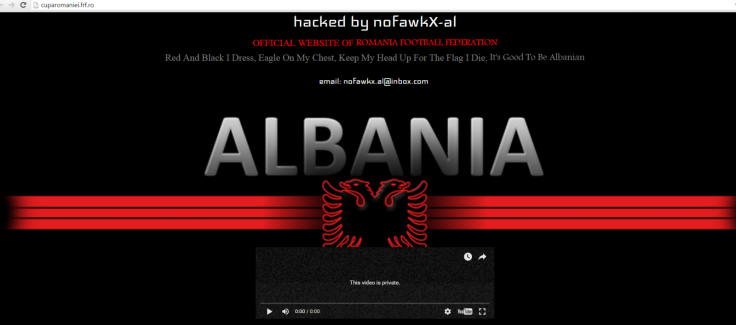 The hack comes on the heels of Romania's recent loss in a Euro 2016 match, which saw Albania win 1-0. The defeat is seen as a major blow to the Romanian team, as it effectively knocks them out of the tournament. The match marked the first ever victory for Albania at the Euro or World Cup. The victory was reportedly celebrated by thousands across the nation.
According to a CNN report, the Albanian government is rewarding the football team by giving them all diplomatic passports and a €1m (£767,707) bonus to be shared equally among the team members. Albania's Prime Minister Edi Rama said: "The giving of the diplomatic passports is the most heartfelt and symbolic. Ambassadors have these passports and they are like ambassadors because of how they've represented our country. In terms of the team, they have made the most outstanding case of playing football in Europe and Albania."