The hacker responsible for breaching the computer networks of the Democratic National Committee (DNC) has released a fresh trove of 261 internal files, donor lists and memos – largely focused on presidential candidate Hillary Clinton.
The data dump, leaked by a hacker dubbed "Guccifer 2.0", consists of a password-protected cache of 261 separate documents in PDF, Word and Excel formats. It comes after two previous releases which included Democratic Party records and a strategic playbook compiled on presidential hopeful Donald Trump.
Several experts initially believed that the hacker was working for the Russian government, but in a quote attributed to the hacker given to Motherboard, Guccifer 2.0 said: "I don't like Russians and their foreign policy. I hate being attributed to Russia".
On the website alongside the latest leak, the hacker wrote: "This is time to keep my word and here're the docs I promised you (sic)." He or she continued: "It's not a report in one file, it's a big folder of docs devoted to Hillary Clinton that I found on the DNC server. The DNC collected all info about the attacks on Hillary Clinton and prepared the ways of her defence, memos, etc., including the most sensitive issues like email hacks."
Upon inspection, the documents do indeed cover a wide range of topics. They include so-called "cheat sheets" on policies going back years, official positions on everything from Boko Haram to Assad, Snowden, taxes and, of course, the leak of emails from Clinton's home server.
Additional documents, viewed by IBTimes UK, includes 'defence' reports compiled on topics such as the Islamic State (Isis), the economy, Russia and the Clinton Foundation. Others are made up of speeches, transcripts and white papers.
The leak features financial information including private jet expenditure, Clinton Foundation donations over $25m, money from paid speaking engagements and Democratic Party contractors. It also includes what purports to be Clinton's tax returns from 2001-2004.
Notable donors to The Clinton Foundation – a charity set up to campaign on issues including women's rights and the global economy – includes The Rockefeller Foundation, the Kingdom of Saudi Arabia, Steven Spielberg, Booz Allen Hamilton and the State of Qatar.
IBTimes UK has not independently verified the contents of the leak.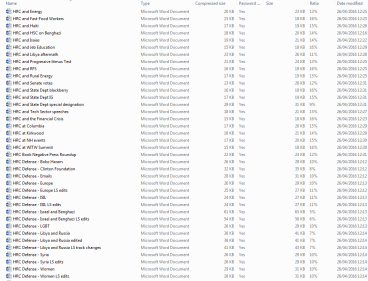 As previously reported, multiple cybersecurity firms have asserted that – based on malware analysis – Russian state hackers are responsible for the attack – with "Guccifer 2.0" expected to be a members of one of the two groups that had access to DNCs computer networks.
In response to the cyberattack, Hillary Clinton said: "I only learned about [the hack] when it was made public and it is troubling, as all cyberattacks against our businesses and our institutions and our government are."
"The [Russian] government uses cyberattacks to gain information to be used for economic commercial advantage, for political advantage and for military advantage. This seems like another example where they are trying to vacuum up information. Why? We don't know yet.
"So far as I know – my campaign has not been hacked into but cybersecurity will be an issue that I will be absolutely focused on as president because whether it's Russia, China, Iran or North Korea more and more countries are using hacking to steal out information. We can't let that go on."
Russia has denied involvement. German Klimenko, the advisor to Russian president Vladimir Putin said it was likely that a DNC staffer "simply forgot the password."
While most of the documents in this latest leak are in no way threatening to Clinton's bid for presidency, they show just how vulnerable sensitive data now is to hackers, cybercriminals and especially rival governments.