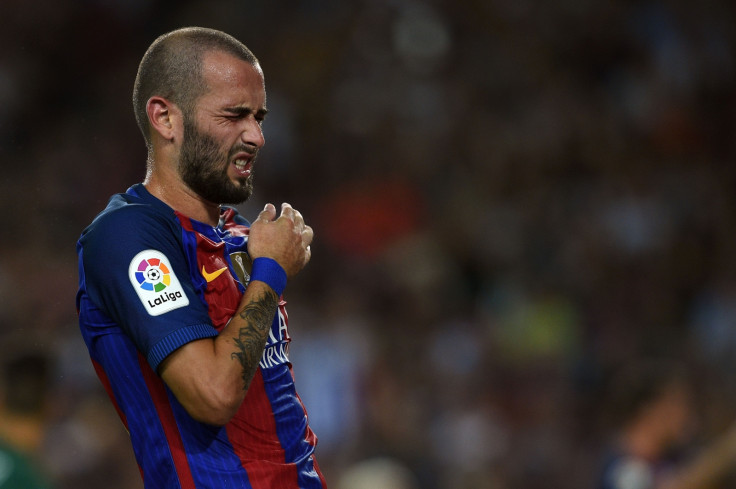 Aleix Vidal's Barcelona nightmare continues, with Luis Enrique leaving him out of the 18-man squad for the trip to Sporting Gijon on Saturday (24 September). Lionel Messi and Samuel Umtiti are also set to miss the game but Sergio Busquets is available. Meanwhile, Rafinha Alcantara returns to the list after forming part of Luis Enrique's rotation policy for the midweek draw with Atletico Madrid.
Vidal, 26, is yet to play a game since he started ahead of Sergi Roberto in shock 2-1 defeat to Alaves on 10 September, where he was at fault for the Basque's second goal. The former Sevilla wing-back had since been overlooked by Luis Enrique for the following three games against Celtic, Leganes and Atletico Madrid.
The Barcelona wing-back landed himself in hot water after being left out of the midweek draw with Los Colchoneros. He sent a controversial message on his Instagram account, posting a picture of himself with two emojis, one showing a face with a zipped mouth and another with a finger raised.
Vidal later clarified that the message was not to his manager but to some journalists.
Luis Enrique, speaking in the press conference, also played down the incident, adding that Vidal is making every effort during the training sessions to turn the situation around.
"I think that's great," Luis Enrique said. "It's none of my business to get involved with what they do on social networks. It's their lives, they're old enough to decide for themselves if they want Instagram or whatever.
"I have no complaint regarding Aleix Vidal, he's training very hard. It's not good for him at the moment because he's not called up to the team but it is something he's been working hard to turn around as best as possible. Any player can turn that situation around and if any manager is ready to allow that situation, it is me."
But the Barcelona boss has decided to keep the Spaniard on ice for the game against Sporting.
Messi and Umtiti are the other two big absentees for the trip to Luis Enrique's homeland. The Argentine has been ruled out for around three weeks after he tore his right abductor on Wednesday night. The Frenchman, meanwhile, missed the game with Los Colchoneros after suffering an injury in a training session.
In a more positive news Busquets has made the list, despite the Spaniard being replaced by Andres Gomes during second half of the game against Atletico Madrid due to a fitness issue. Furthermore, Rafinha is back in the squad after being rested against Atletico Madrid.