Luis Enrique says Barcelona can cope without Lionel Messi ahead of Sporting Gijon trip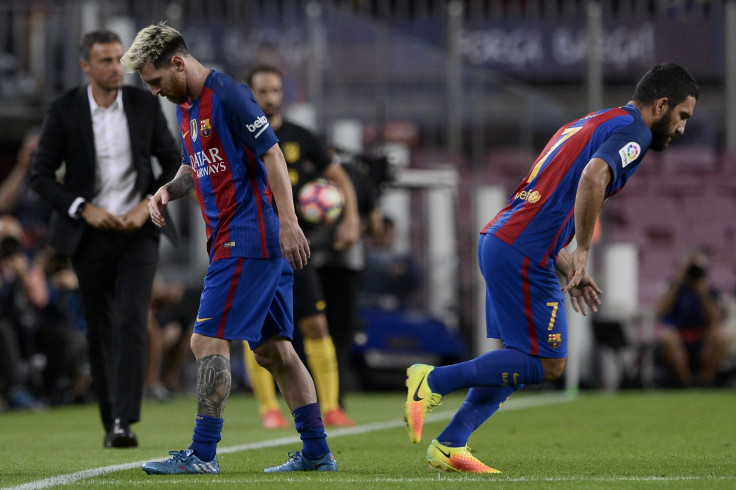 KEY POINTS
Catalans visit Asturian side following a 1-1 draw with Atletico Madrid.
Argentine set to be on sidelines for around three weeks.
Barcelona manager Luis Enrique has backed his team to cope without Lionel Messi ahead of the trip to Sporting Gijon on Saturday (24 September). The boss admitted the absence of "the best player in the world" will weaken his side, but added that the likes of Neymar and Luis Suarez are ready to step in.
Messi, 29, has been ruled out for around three weeks after he tore his right abductor on Wednesday night, coming off just minutes after Angel Correa levelled up the game for Los Colchoneros.
The Argentine is expected to miss upcoming games against Sporting Gijon, Borussia Monchengladbach and Celta Vigo, which will come before the October international break.
Luis Enrique admits the injury is a big blow for Barcelona, but pointed out his side has shown in the past they can win without the Ballon d'Or. Since the Spaniard took over in 2014, Barca have won 13 of their 16 games without Messi.
"Unfortunately last year he was out two-and-a-half months and the team responded fantastically. We've got more than enough resources to deal with it and beat any team," the Barcelona boss recalled during a press conference. "I think to win titles we need a full squad, while at the same time we do have to be able to deal with situations like this when they come up."
Arda Turan looks the main candidate to fill the gap on Saturday after he replaced Messi during the draw against Atletico Madrid. However, Rafinha Alcantara, Denis Suarez, Paco Alcacer and even wing-back Aleix Vidal could also partner Neymar and Suarez in the Barcelona attack.
"I always look at different options," Luis Enrique said. "But anything that involves giving clues to my opponent, even though it's Sporting Gijón and Abelardo, who are good friends of mine, I am not giving anything away."
But when pressed as to whether summer signing Alcacer would be ready to respond to the challenge, he said: "He has nothing to prove, we know how good he is, he is an international player. More playing time would be useful, and he'll get more with Leo out."
The Barcelona boss also refused to heap more pressure on the likes of Neymar and Suarez, although even though they will be under the spotlight during Messi's absence.
"I am not going to ask anything more of Neymar. I just want him to give it his all and play as well as he can. I don't ask for more effort, but maybe for them to play in different positions. That's my job," Luis Enrique said. "I don't think you'll see anything different this time compared with the last time Messi was out."
Argentina coach Edgardo Bauza slammed Barcelona for not taking care of Lionel Messi, with the star set to miss the coming World Cup qualifiers against Peru and Paraguay on 6 and 11 October.
But the Barcelona boss responded: "We only want the best for Messi, I will not get into any bickering. It's bad news when any players got injured. It's even worse when it's the best player in the world and for any anyone who likes football."
Sergio Busquets was also badly missed during the draw with Atletico Madrid draw after he was replaced in the second half of the game due to a fitness concern. Sergi Roberto, his natural replacement, has established himself as first-choice in the right-back role following the departure of Dani Alves to Juventus, and Javier Mascherano has not played in the holding role almost since his arrival from Liverpool.
On Wednesday, Luis Enrique opted to deploy Andre Gomes in Busquets' role despite the Portuguese international playing in a much more advanced role during his time at Valencia.
Busquets may be back for the game against Sporting after training with the rest of his Barcelona teammates in recent days. However, if the Spaniard is not fit to start, Luis Enrique said that he also has enough options at his disposal to replace him.
"Javier Mascherano, Sergi Roberto, Ivan Rakitic, Andre Gomes... we have more than enough options to cover for Busi," the boss said.
© Copyright IBTimes 2023. All rights reserved.