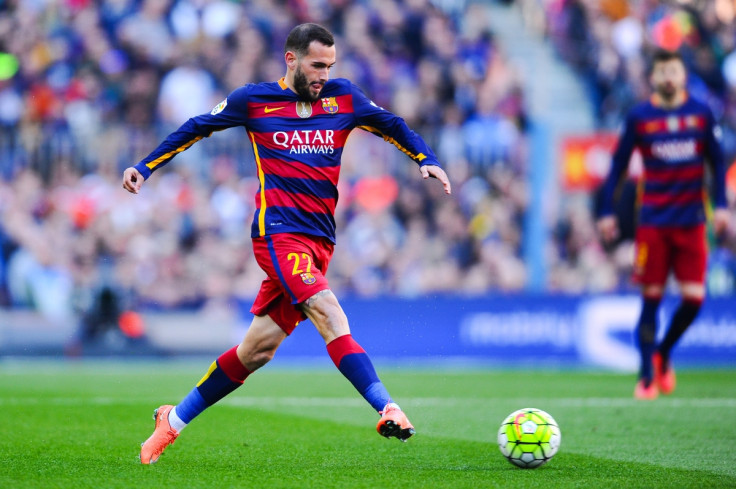 Barcelona's out-of-favour star Aleix Vidal has landed himself in hot water after posting a controversial message on his Instagram account, posting a picture of himself with two emojis, one showing a face with a zipped mouth and another with the f**k you sign. The Spaniard's post came after he was left-out of the squad for the Wednesday's 1-1 draw with Atletico Madrid and amid recent reports linking the Catalans with a January move for Arsenal star Hector Bellerin to replace him.
The Spaniard has failed to adapt to Barcelona since his arrival to the club from Sevilla in the summer of 2015. He spent the first part of last season out of action because of a Fifa registration ban, then struggled to make any impact during the second part of the campaign.
His situation was expected to change in the new 2016-2017 campaign following the departure of Dani Alves to Juventus. However, he has been restricted to only two appearance for Barcelona after Luis Enrique opted to used midfielder Sergi Roberto ahead of him in the opening games of the campaign.
The Barcelona right-back has eventually been left out of the squad in the last three games against Atletico Madrid, Leganes and Celtic, with his last appearances coming in the 2-1 defeat against Alaves, where he was at fault for the second goal of the Basque side.
Reports in Spain have been claiming in recent days that Barcelona are ready to part ways with the Spaniard as plan to lure Hector Bellerin back from Arsenal to replace him.
Earlier this week Luis Enrique sent him a message during a press conference, urging the player to raise his level should he want to be first-choice right-back.
The boss said: "I have a unique squad and every week someone will be dropped. But the players [who are not playing] should improve their performances individually and collectively. That's my message for everyone, because we all make mistakes, but we make sure those mistakes are as few as possible. It is necessary to improve in order to ensure that all the players have minutes in such a good squad.
"I try to give minutes to everyone. I'd like to have all my players playing all the time, although that's a utopia because it's not easy when you can't pick everyone. I know it is not easy to keep that level when you are not playing regularly."
Vidal has now added more fuel to the saga with a controversial Instagram post. The account is private but a screenshot of the message has quickly become viral online.
Some reports in Spain are claiming that the message of the player is not to his manager but to some journalists. One way or another it doesn't looks the best way to turn around his situation at Barcelona.