Alex Oxlade-Chamberlain better served at Liverpool than Chelsea, says Mark Schwarzer
Oxlade-Chamberlain plumped for a move to Anfield over Stamford Bridge.
Liverpool midfielder Alex Oxlade-Chamberlain was right to choose the Reds over Chelsea as he is better suited to Jurgen Klopp's brand of football and will play in more offensive positions rather than at right-wing-back.
Oxlade-Chamberlain joined Liverpool from Arsenal in a deal worth £40m on the final day of the transfer window and could line up for his new team when they travel to face Manchester City on Saturday (9 September).
It is believed the former Southampton star chose Liverpool over Premier League champions Chelsea due to the promise of central midfield opportunities.
Antonio Conte was keen to use the 24-year-old as a wing-back, a position he flourished in for Arsenal during the back-end of last season, but former Chelsea and Fulham 'keeper Mark Schwarzer believes 'the Ox' was right to choose and should flourish in an attacking role at Anfield, though he will have stiff competition for a starting spot.
"At Arsenal, he was a little bit stale, he became a little bit comfortable at times and frustrated that he did not always play in the position he wanted to play in," Schwarzer said on Sky Sports. "But I think it is actually a great move for him and it is the right move for him.
"I think it was a better move for him than going to Chelsea, it suits him the way he plays and Jurgen Klopp is ideal for him - the high intensity and pace he has.
"He will play a lot more of an attacking role and he is more exciting to watch in that more forward role, rather than a wing-back position."
Schwarzer's sentiments were echoed by Stuart Pearce, who believes Oxlade Chamberlain has found a club that suits him down to the ground in Liverpool, though he now faces a fight to establish himself as a first-team regular under Klopp, who has an embarrassment of midfield and attacking riches to choose from.
"I think this is a wonderful move for him," Pearce said. "I think he needed a new challenge away from Arsenal and there is some pressure on himself now.
"For me, if I was representing him, I would now be saying, 'Look, you have got your move, but the ball is in your court now. You have to get in the first team to start with at Liverpool.'
"If you go to any top-six club, you have got a major challenge on to get in the first team, no matter what player you are, let alone how Liverpool have started the season.
"They have been in the transfer market and spent some money, so it is a very exciting club and I think the match is perfect. With his high energy and the way he plays, Liverpool is a perfect match for him."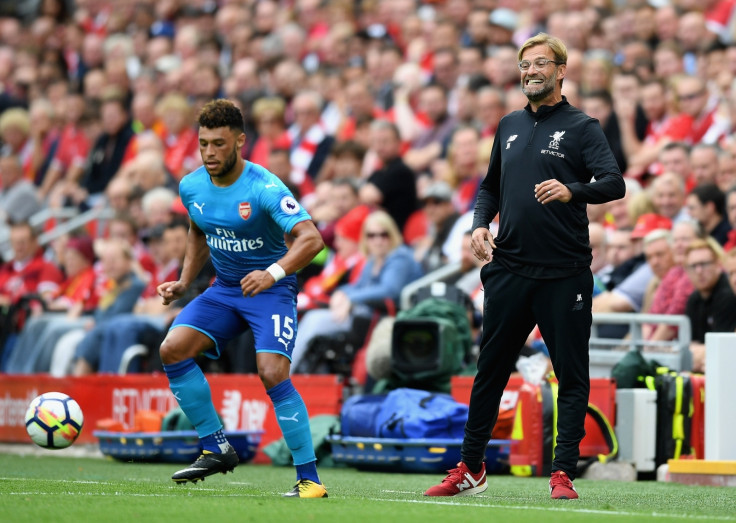 © Copyright IBTimes 2023. All rights reserved.