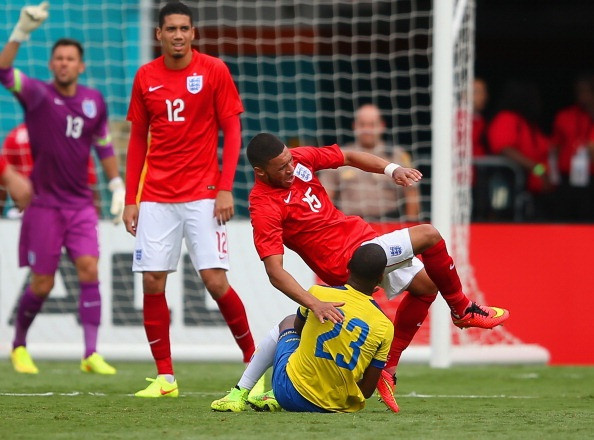 Alex Oxlade-Chamberlain remains upbeat despite his injury threatening to take away his World Cup dream.
The Football Association (FA), confirming the winger's injury, said he suffered medial ligament injury in England's friendly against Ecuador. The winger is likely to be out of action for two or three weeks, which could see him miss their opening World Cup fixture against Italy on 14 June.
The Gunners star was playing for the first time since April after recovering from a groin injury. Despite the latest injury, Chamberlain remains positive of featuring for the Three Lions in the summer event.
"Gutted to have picked up an injury yesterday. I'm staying positive and getting to work with the medical team on recovery. Fingers crossed!" Oxlade-Chamberlain tweeted.
England manager Roy Hodgson is hopeful that he can have the 20-year-old fit and will not need to call in a replacement.
"We will do everything in our power to keep him (in the squad). Our medical team are optimistic and he is optimistic, we can't say how long for certain it will take him to recover but obviously he will get very extensive treatment," Hodgson said.
"We will do everything we can to keep him with us because: a) we would we like to think we might go beyond the group stage although we can't guarantee it, we are certainly planning for it and b) he played so well yesterday."
"He was undoubtedly our best player in the time he played and it would be a major blow if we lose him."
England have the right to replace any injured player up to 24 hours before the start of the first game. Hodgson has Michael Carrick and Tom Cleverly on England's standby list.
Meanwhile, Queens Park Rangers boss Harry Redknapp expressed concern for Oxlade-Chamberlain and feels his injury to be a big loss for the Three Lions.
"It's a shame for the boy if he has to miss out. Let's hope he is OK because he looked excellent last night," Redknapp told talkSPORT.