Alexis Sanchez has refused to give a clear indication with regards to his Arsenal future despite reports suggesting that he will leave the club if they fail to achieve Champions League qualification.
The Gunners are outsiders in the race to finish in the top four of the Premier League and book a place in Europe's elite club competition. Arsenal need to beat Everton on Sunday (21 May) and hope that relegated Middlesbrough take points off Liverpool to have a chance, if not they will be playing in the Europa League next season – the first time during Arsene Wenger's 21-year reign.
The French coach is hopeful that the Chilean, who has been Arsenal's best player by a distance this season, will stay and extend his contract, which expires next summer. Arsenal are said to have offered him a new deal which is said to be in excess of £250,000-a-week ($324,150) but Champions League football and ambition in the transfer market are said to be factors that will play a role in his decision.
The 28-year-old will re-open talks with the club in the summer, but his current situation has alerted interested clubs with Manchester City, Chelsea, Bayern Munich and Paris Saint-Germain pondering a summer move for the Chile international.
"I cannot tell you now (about my future). We have to wait until the end of the season. As I always say, it doesn't depend on me. It depends on the club. What they like, what they don't like," Sanchez was quoted as saying by the Mirror.
"I always said the same: I try to do my best, to support the team, to score goals, to win victories. And we will see at the end. If they like that I carry on, or they don't. Whatever they want, we will see it at the end of the tournament.
"This is normal. I think in every team they always buy more players. Barca, Real Madrid, Bayern, they always buy more players and I think we can have the option to buy more players to be stronger every day," the Chilean explained.
Sanchez, meanwhile, hit back at the club's supporters for their protests calling for Wenger to leave the club in the summer. There have been fan protests, banners during games and even planes flying with 'Wenger Out' signs in recent months.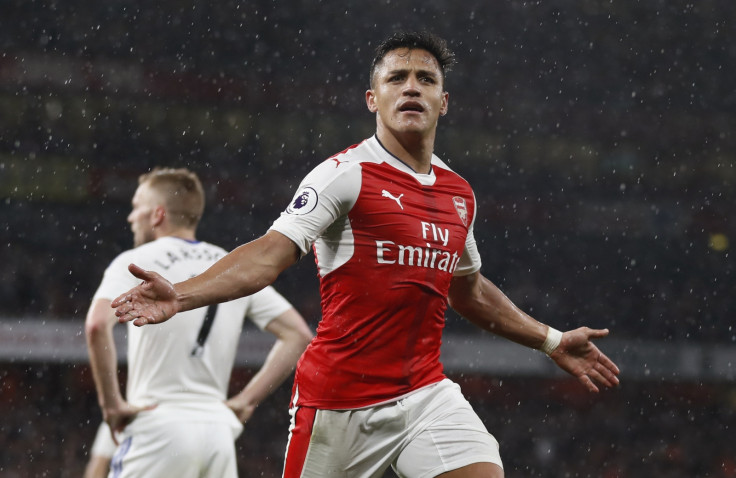 The Chilean feels the manager deserves more respect owing to his contribution to the club on and off the pitch. Wenger played an instrumental role in Arsenal moving from their old ground Highbury to the new state-of-the-art Emirates Stadium.
"For me, it (fan demonstrations) is very bad. He is the manager who gave a stadium to the club, won cups, and he has been 21 years in the job. He is the creator of the stadium, the players and style of the club," he added.