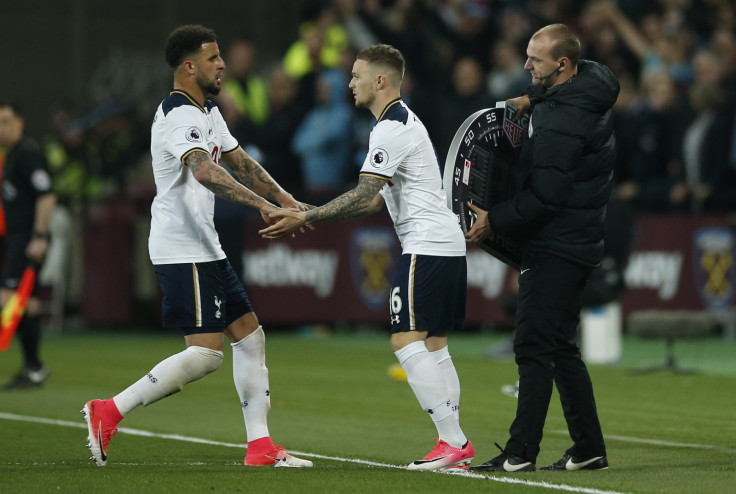 Tottenham Hotspur manager Mauricio Pochettino has hinted that he could opt for a change in formation ahead of Thursday night's (18 May) Premier League trip to Leicester City in order to cope with a current paucity of senior full-back options.
Left-back Danny Rose will play no part in the final two matches of the season after undergoing exploratory surgery on a left knee injury that has kept him sidelined since the end of January, while right-back Kieran Trippier sustained a concussion in the last game ever to be held at White Hart Lane against Manchester United. He was replaced by Kyle Walker for the seven minutes of that 2-1 win, although it has since emerged that the England international is now suffering from an ankle problem.
"Yes, we will have different options to play, different players," Pochettino was quoted as saying by football.london at his pre-match press conference.
"Maybe we will change the formation. It's good for us to be creative now, one more time. To try to play in the best condition and try to win. For us the last two games are important.
"It's true we cannot change the table but it's important for us now to try to win, for us to compete. I think we need to finish well. To finish second was a good thing for us, but now we need to finish in the last two games with a good feeling."
Pochettino claimed that Trippier and Walker would need to be assessed to determine their availability for Sunday's clash with relegated Hull City. He responded "we need to see" when asked if Rose would be ready to return by the start of a 2017-18 campaign that will see Spurs play all home matches at Wembley while work continues on their new 61,461-seater stadium.
Dembele to visit specialist
Mousa Dembele, whom the manager affectionately labelled as a "genius" earlier this year, has featured as a second-half substitute in each of Tottenham's last three matches and was replaced at half-time on his last start against Crystal Palace in April. Responding to questions over his fitness, Pochettino confirmed that the gifted Belgian midfielder had been playing through a foot issue and would need to see a specialist.
"He's struggling with his foot. We will see what happens now after Sunday. He needs to see a specialist. It's ok, but maybe not in his best interest to play 90 minutes."
Asked if it was the same foot injury that had plagued Dembele in the past, he added: "Yes, but he's being careful to stay available to help the team in the last few weeks. I want to say that we appreciate that a lot, it's very painful for him but he's trying to do his best to help the team in the last few weeks, try to achieve, first of all to try to arrive in the final of the FA Cup, then to win the Premier League and then in the end to be second in the table."
Pochettino also expressed belief that Dele Alli is committed to Tottenham following an interview in which he refused to rule out a lucrative future move elsewhere and reiterated that "all the players we want will stay here next season" amid lingering rumours that Walker is seeking a transfer elsewhere.