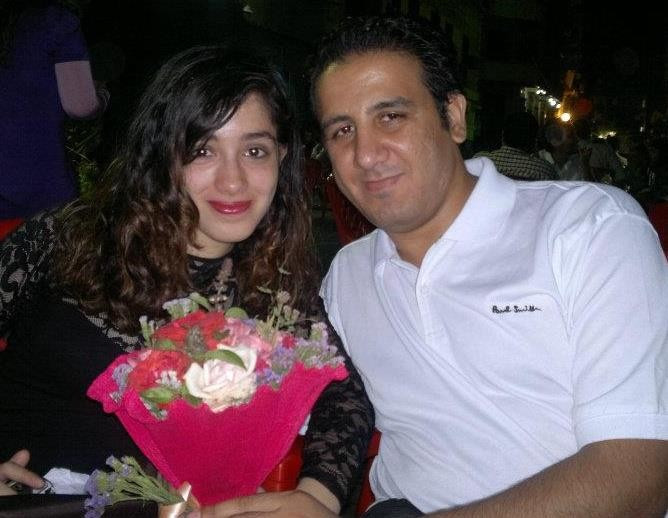 Aliaa Magda Elmahdy the controversial blogger who published naked picture of herself on Twitter to protest against Islamism, is the girlfriend of Kareem Amer, also a dissident blogger, who has been jailed by the Mubarak's regime.
He was released in 2010, after serving a four-year sentence for defaming Islam and insulting former ousted President Hosi Mubarak. His arrest and trial, as well as his abuse in prison, drew international condemnation from the human rights association like Reporters without Borders.
Amer started his blog in April 2005, in the Kefaya movement, the genesis of cyberactivism in the country.
"I am down to earth Law student; I look forward to helping humanity against all form of discriminations," Kareem wrote in his Blogger profile. "I am looking forward to opening up my own human rights activists Law firm, which will include other lawyers who share the same views. Our main goal is to defend the rights of Muslim and Arabic women against all forms of discrimination and to stop violent crimes committed on a daily basis in these countries."
His first arrest came in October 2005, after he posted an entry entitled "The naked truth about Islam as I saw it in Maharram Behy." In that piece, he compared Hosni Mubarak to a Pharaoh. Three weeks later he was released only to be arrested again on November.
He quickly became an international cause celebre. Fellow bloggers from across the political and religious spectrum launched a campaign called "Free Kareem", and itd banners appeared on blogs throughout the Arab world and beyond.
Aliaa Magda Elmahdy, Nude Blogger: In Pictures
Amer's girlfriend, Aliaa, made the headlines this week for a series of naked pictures that she published on Twitter under her real name in a protest against Islamic extremism. Her move sparked a heated debate on twitter.
The hash tag #NudePhotoRevolutionary went viral after Ahmed Awadalla, who works in the field of human rights, health, sexuality and gender tweeted: "@3awadalla: A feminist #Jan25 revolutionary posted her nude photo on the internet to express her freedom. I'm totally taken back by her bravery".
Aliaa Magda Elmahdy, only 20 years old and a student at the American University of Cairo, defines herself as "Secular, Liberal, Feminist, Vegetarian, Individualist Egyptian". In a tweet, she said "I took my nude photo myself in my parent's home months before I met @Kareemamer [her boyfriend] and I'm atheist since I was 16".
"My view is that the veil is not a personal choice in Egypt, but the results of religious and social pressure," she said in Facebook. "The women with head veil that I know wear it because of their families or because they don't want to be beaten in the streets. I don't see why they always dictate to women, and not to men, what they should wear."
For this reason, Aliaa Elmahdy also supports a controversial Facebook event called "Men should wear the veil".