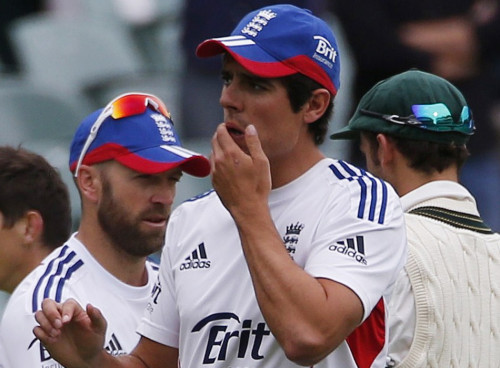 Alistair Cook has indicated that he may resign as England one-day captain after Australia caused further humiliation by taking an unassailable 3-0 lead in the one-day series.
Things have gone from bad to worse since England suffered a 5-0 Ashes series whitewash and now Cook is left to reflect on his side's third successive one-day defeat to Australia.
"I think English cricket needs a little bit of a change," he said.
"I think there will be some changes. We have kept losing games of cricket and I haven't been able to turn it around."
Cook has won 29 of his 53 international games in charge since taking over from Andrew Strauss but is now questioning his own captaincy.
He added: "I've got a job to try and turn this around, try and win one of these games. That's the task at hand.
"I'm competitive. I want to leave everything out on the pitch. We'll deserve the stick we get because we haven't won games of cricket. Simple deal."
As England's tour draws to a close, with just two one-day and three Twenty20 matches remaining, they have just two victories to their name - both in warm-up matches.
In a tour which saw Jonathan Trott, Graeme Swann and Steven Finn head home for various reasons the unfortunate tourists have lost nine successive matches against the Australians, making a win in the Twenty20 series merely a consolation.
Cook, who has scored 2742 runs since making his ODI debut in 2006, is nevertheless positive that he would remain a part of the one-day team even if he were to resign as captain.
"I want to be part of a successful one-day team," he said. "I feel that I'm a good enough player to do that and my record suggests that I can do that."
The tortured England side will have to pick themselves up as they face Australia once again next Wednesday at the Blundstone Arena in Hobart.