A Californian firm is trying to give law enforcement the opportunity to cut deaths, by making bullets less lethal.
Known as The Alternative, Alternative Ballistics' solution is a clip-on plastic launcher that holds a metal ball in front of a pistol's muzzle. When the pistol is fired the bullet enters the sphere, which slows it down to one-fifth of the bullet's normal speed – from an average of 877mph to just (relatively speaking) 175.2mph.
The sphere's speed means it can still break bones and cause extreme pain when it hits a suspect, but the risk of someone dying from the impact is slight – especially as police officers are trained to shoot at a person's torso, which often leads to a loss of life.
The Alternative has been developed over the last nine years and was created by a retired sheriff officer who was unhappy that tense police situations often carried a great risk of death. The device does not obstruct the gun or affect its performance, but it also allows for other attachments like lasers and flashlights.
Solution should not be used for split-second decisions
However, Alternative Ballistics cautions that The Alternative should not be used by a police officer who has to make a split-second decision to prevent harm befalling a victim or officers, but only when the officer has three seconds or more to think about it.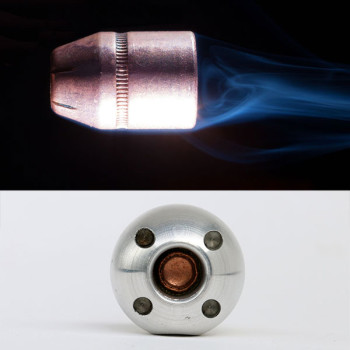 In addition to providing law enforcement with The Alternative solution, Alternative Ballistics also offers a two-day programme to train instructors who teach personnel when and where to deploy the device, as well as lessons in live fire qualifying, live fire manipulation and legal ramifications.
So far this year in the US, a total of 706 people have been killed by police gunshots, according to The Guardian's The Counted database, which is monitoring all police-related deaths in the country.
The US public and the media remain highly critical of police methods, in particular the militarisation of police SWAT teams using army surplus equipment since the Ferguson riots in August 2014.