Amazon begins Prime Air drone deliveries in the UK
Trial with two customers is delivering packages by air in as little as 13 minutes.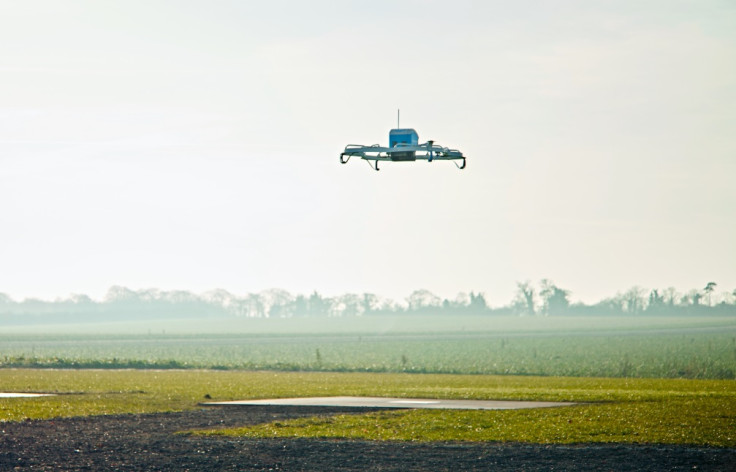 Amazon has begun using autonomous drones to deliver packages to customers' homes in the UK. The service, called Prime Air, is a private trial with just two customers for now but Amazon hopes to offer it to hundreds more in the future.
A video published by Amazon shows how the drones are stationed at a fulfillment centre in rural Cambridgeshire, close to the customers' houses. Orders received by the centre are boxed up by Amazon staff and loaded onto the drone, which is then sent down a runway to the launch pad.
From there, the drone takes off and autonomously flies itself to the customer's garden, where it lands and dispatches the parcel, before returning to the fulfillment centre.
The drones, which fly at an altitude of 400ft (120m) and are guided by GPS, can carry packages weighing up to five pounds (2.25kg); Amazon says this accounts for the majority of orders placed by customers. Orders arrive in less than 30 minutes. An Amazon video shows a package arriving 13 minutes after the order was placed.
"We will use data gathered during the beta test and feedback provided by customers to expand the private trial to more customers over time," Amazon said in a video. "We are starting with two customers for now and in the coming months will offer participation to dozens of customers living within several miles of our UK facility, and then growing to hundreds more."
Amazon's Prime Air drones were first revealed in November 2015 in a video featuring The Grand Tour presenter Jeremy Clarkson. The video showed a prototype Amazon drone and explained how it could fly autonomously for up to 15 miles on one charge.
Clarkson described the Prime Air drone as: "A miracle of modern technology [which] rises vertically like a helicopter to nearly 400ft." The drone then sets off horizontally like an aeroplane. "In time, there will be a whole family of Amazon drones, with different designs for different environments," the presenter said. The drones use "sense and avoid" technology to recognise other airborne hazards such as planes and hot air balloons, and navigates around them.
When nearing the customer's house, the drone uses a camera to scan the ground, looking for an Amazon logo the customer places in their garden. At this point, Amazon sends a notification to your tablet to say your delivery is arriving, and the drone lands in your garden.
© Copyright IBTimes 2023. All rights reserved.