Uber has expanded its self-driving taxi trial to the home of technology and autonomous vehicles; San Francisco. Starting from 14 December, Uber customers with a credit card attached to a San Francisco billing address are eligible to ride in a fleet of five self-driving cars.
The modified Volvo XC90 sports utility vehicles are autonomous, but have two safety engineers in the front seats; one ready to take the wheel in an emergency or if the car gets confused, and a second to make notes about the car's behaviour.
Customers assigned to an autonomous car will be told via the Uber app, giving them the option to cancel the ride and pick a regular human-driven Uber instead. But those who agree to take part in the experiment will get their ride for free and, all being well, the journey will be completed without any human involvement at all. The cars use radar, lidar and cameras to navigate their way around, and what the car can 'see' is shown on a computer screen to rear seat passengers.
"The promise of self-driving ride sharing is becoming a reality," said Mårten Levenstam, vice president product planning at Volvo Cars. "Volvo is proud to be at the forefront of the latest developments in the automotive world alongside our partners at Uber."
San Francisco is the second city to welcome autonomous Uber cars to its roads, after the service was first offered in Pittsburgh in September. The San Francisco trial will see autonomous cars drive the streets of Silicon Valley, home to hundreds of technology companies like Apple, Facebook and Alphabet, parent company of Google.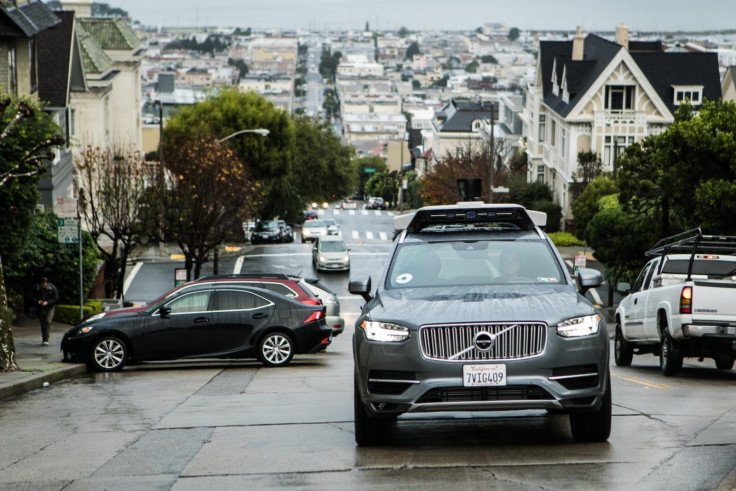 It will also mean Uber's cars are sharing the roads with autonomous vehicles currently being developed by Google, Tesla and others. All three companies share the common goal of making cars fully (or almost fully) autonomous by the start of the next decade. Google this week spun off its autonomous car division into its own company, called Waymo, while Tesla wants to offer its car as autonomous taxis in the coming years.
Uber will begin with five self-driving Volvos, before adding more in early 2017. The company says its robotic vehicles can take passengers anywhere in the roughly seven-mile-wide city, which is smaller than Pittsburgh but contains more traffic and unique challenges like steep hills and cable cars.
California is one of the few US states which allows autonomous cars to be tested on public roads. But regulation requires the vehicle to have an attentive 'driver' in the car, ready to take over at any moment. Additionally, Uber does not believe its cars require a special permit. Lior Ron, of the company's Advanced Technology Group, told the Wall Street Journal: "The cars, we believe, do not require special permitting. Based on how the car is operating and used, we feel strongly the car is not an autonomous vehicle."