Amazon has brought its Cloud Drive online storage service to the UK, offering 5GB of free storage to all users who want to store documents, images and other files in the cloud.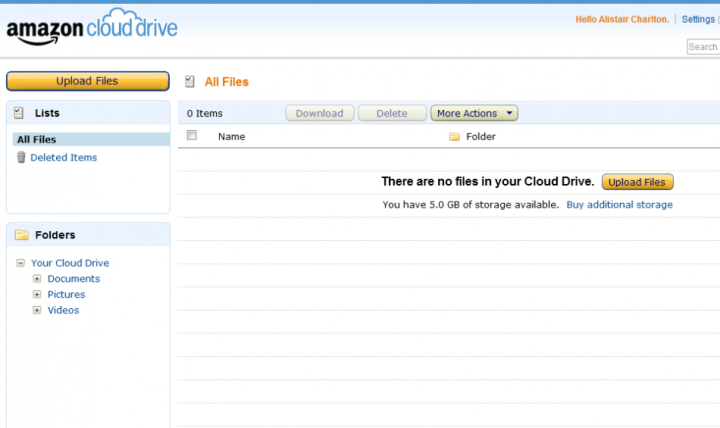 Set to rival Dropbox - which announced upgraded security this week - Microsoft's SkyDrive, Apple's iCloud and the Google Drive service, Amazon's Cloud Drive offers extra storage from £6-per-year for 20GB, up to £320 per year for 1TB.
Dropbox offers just 2GB for free and sells 100GB for around £6.32 per month ($9.99), which is considerably more expensive than Amazon, where 100GB will set you back £30-per-year.
To activate your 5Gb of free online storage, just log-in with your existing Amazon customer account and you're ready to go.
Cloud Drive requires Flash to upload files, so you can't use the service through the browser of an iPhone or iPad, and while there is a desktop app for Windows and Mac OS X, there's no equivalent for smartphones and tablets yet.
Through the desktop app you can drag and drop files into the Cloud Drive for storage - no need to use a Flash uploader.
Amazon has imposed a 2GB individual file limit, so users wishing to store large HD video files in the cloud will have to look elsewhere; Dropbox, for example, can accept larger files but only through its desktop uploader and not the website, where there is a 300MB limit per file.
In the US, media files can be played online using Amazon's Cloud Player, so there's no need to download your entire music library while you're on holiday - instead, tracks can be streamed directly from the website - and we expect Amazon to launch the service in the UK soon.
There is only a small mention of Cloud Drive on the Amazon UK home page for now, but we expect the company to say more at its 6 September media event, where we are also hoping to see a new range of Kindle readers and the Kindle Fire 2.