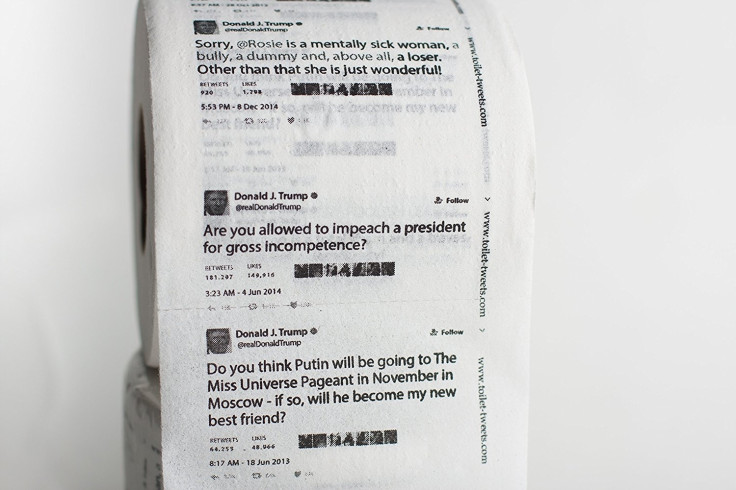 Amazon is now selling rolls of toilet paper with US President Donald Trump's tweets printed on it and the internet is going bonkers. A single roll of the double-ply toilet tissue paper is being sold for $11.99 on the site and features 10 of the president's tweets that were deemed "most suitable for flushing".
"No twitter feed is as deserving of being flushed, it's tremendous," the description for the novelty product Toilet Tweets' website reads. "I'm hearing other toilet papers don't even have words on them, SAD! This toilet paper has the best words."
The tweets featured on the loo roll include a range of remarks made by Trump that come off as ironic since he became president.
"Are you allowed to impeach a president for gross incompetence?" one tweet dated 4 June, 2014 reads. Another tweet from 2012 reads: "The electoral college is a disaster for democracy."
In a tweet dated 18 June 2013, Trump wrote: "Do you think Putin will be going to The Miss Universe Pageant in November in Moscow — if so, will he become my new best friend?"
At the time of publication, the loo rolls were already sold out.
Toilet Tweets said in a tweet that it sold out of the toilet paper rolls by Friday (4 August) morning. However, a new shipment is already on its way to Amazon and should be available "in a few days", the company said.
Trump has not yet tweeted about the product either.
Naturally, the internet has gone berserk over the infamous rolls and poked fun at Trump's tweets and his administration in light of the new product.
"I was going to order this but was concerned about lack of absorbency and that it may lead to leaks," one Amazon user wrote. Another person wrote: "Many people told me this was the greatest invention in the history of ever and boy were they right. As the most important person in the world, it is great to see Trump's Toilet Tweets (TM) getting the recognition they deserve."
However, many conservatives also took to Twitter to voice their outrage over the product saying it was "in poor taste" and "incredibly disrespectful" to the president.
"This is tasteless and offensive garbage. I sure hope this is not the type of products Amazon is going to allow for sale on their site," one Amazon user wrote.
"Very sad to see that Amazon has chosen the stoop this low to sell an item that reflects the thoughts about our president," another critic said. "Sadly not much thought went into this mixing politics and the concerns of their customers."
Others took to Twitter to mock the product with many saying it makes for the "perfect Christmas gift".