American Israelis casting overseas ballots for Trump
Get out the vote campaign's data shows dive in support for Republicans from 2012.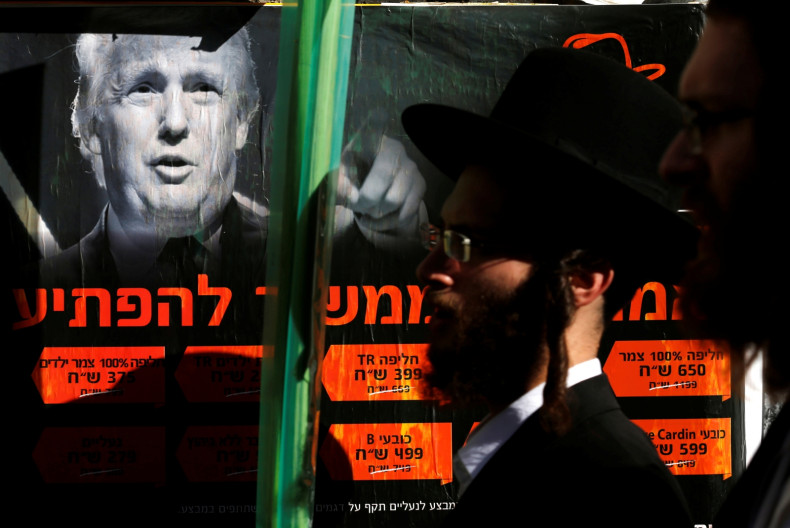 Americans Israelis are casting their vote for Trump according to a get out the vote campaign that sends in overseas ballots from the Middle Eastern nation.
Yet the numbers show the Republicans have taken a big hit in support with The Donald at the helm.
Votes collected by non-profit iVote Israel in 11 cities and communities – including Tel Aviv, Jerusalem, and the West Bank settlement Ma'ale Adumim – show Trump with 49% and Clinton with 44% of the vote.
However, that's a 36% hit in support for the Republicans from 2012 when Mitt Romney commanded an 85% share of the iVote Israel exit poll.
The 2016 poll was taken from a sample of 1,140 people who cast ballots. The get out the vote campaign group said 15,000 US citizens in Israel used the iVote platform and polling stations to vote up to 1 November. That's half of the US citizens who have cast their ballot from Israel this year. The non-profit delivers the ballots they collect straight to the US Consulate in Jerusalem.
Yet even the turnout numbers show a steep drop in support across the political spectrum. In 2012 some 80,000 Americans cast their vote from Israel.
What's driving the drop? "I think it's this lack of enthusiasm about the candidates," said Eitan Charnoff, director of iVote Israel. He pointed out their polling data showed "the number one reason people voted was because of dislike for the other candidate."
Regardless of who they voted for, 65% of those polled had an unfavourable view of Trump and 64% an unfavourable view of Clinton.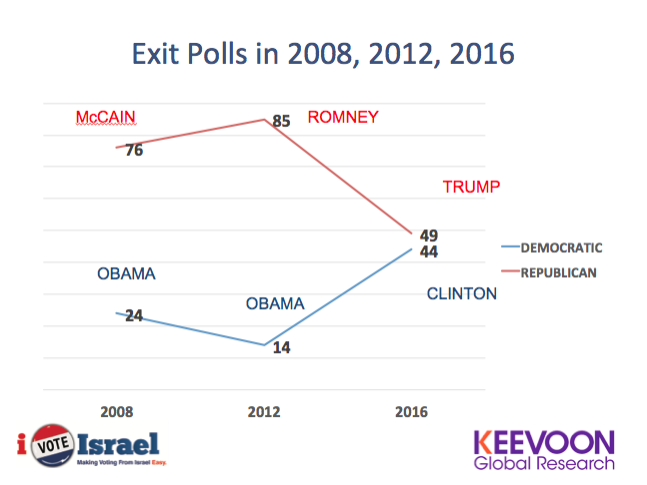 iVoteIsrael/Keevoon Global Research
"I think the real question here is not why a lower percentage may be voting for Trump, but why the number is even that high," said Miriam Goldman Eps, a regional security analyst for Le Beck International, a Middle East-based risk management company.
"[His] flirtation with white supremacist groups, constant flip-flopping on issues, calls for countries under the US defense umbrella (like Israel) to pay up," she wrote in an email, along with his "lack of experience should have alienated both Jewish and Israeli voters."
Goldman Eps took issue with how the poll was conducted as "ones involving absentee ballot voters really shouldn't be considered an exit poll as the data was obtained via an email invitation." The method of interviewing a sample of voters leaving a polling station is more reliable, she said.
Still, she wrote, "Trump's continued support among Jews and Israelis can primarily be explained by an unrelenting perception of both Obama and Clinton as bad for Israel." Both have voiced opposition to settlement building and Obama helped broker the Iran deal.
In September, President Barak Obama's administration secured an agreement to give Israel $38bn in funding over the next ten years – $3.8bn annually.
As a result, Trump did well in the poll among ultra-Orthodox voters. "I also think that there are those on the right who connect to his anti-Muslim and anti-refugee rhetoric," said Goldman Eps.
The danger he presents, however, "should have been particularly apparent back in 2015," she said, "when reports emerged that Trump intended to visit the Temple Mount/ al-Aqsa Mosque Compound around the same time as the "knife intifada" was occurring."
Although he cancelled the trip "one can only imagine the response to such a visit by a man considered anti-Muslim," Goldman Eps said.