With less than a week left for the 2016 presidential election, US President Barack Obama has gone all out to exhort voters to back Democratic nominee Hillary Clinton. Campaigning for the veteran politician and his former secretary of state, Obama told a crowd of over 16,000 people in North Carolina that the fate of the country rested on their shoulders.
North Carolina, a key state where Obama had won in the 2008 election but lost in 2012, is reportedly being seen as an important battleground where the president hopes to woo young voters as well as the state's African-American population.
Addressing a rally on Wednesday (2 November) at the University of North Carolina in Chapel Hill, the president told the audience that they were Americans first and then Republicans or Democrats.
Without explicitly mentioning the recent controversies surrounding Republican candidate Donald Trump, the president said: "There's a standard of behavior that we ought to expect of our leaders". Trump has faced strong criticism for his often derogatory and controversial remarks about women, minorities and immigrants.
"All the progress we hope to make over the next eight years, all of that goes out of the window if we don't win this election. And we don't win this election, potentially, if we don't win North Carolina," CNN quoted Obama as saying.
"So I hate to put a little pressure on you, but the fate of the republic rests on your shoulders. The fate of the world is teetering and you, North Carolina, are going to have to make sure that we push it in the right direction," he added.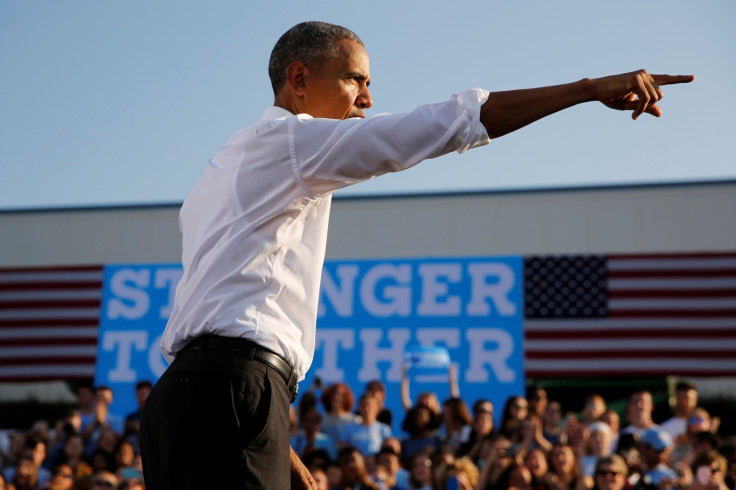 Addressing young voters in the state, he said: "It's not often that you can move the arc of history. Don't let that chance slip away. Young people here, it's not often that you know your voice will have an impact. Don't give away your power. Don't fall for the easy cynicism that says my vote doesn't matter. That's what Hillary's opponent wants you to think because they don't want you to vote."
Obama also took on the state's voter identification law, calling it "one of the worst voter suppression laws in the country". He also condemned Trump for suggesting at a rally that he would monitor voting in certain areas to prevent minorities from voting for Clinton.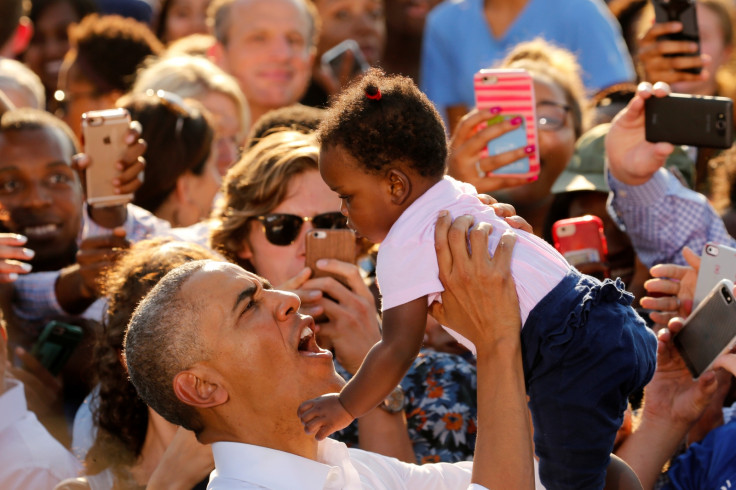 The president also addressed comments by Republican North Carolina Senator Richard Burr, who is contesting against Democrat Deborah Ross, equating him to Trump. "Personally he's a decent guy. But when I hear him say there's not a separation between me and Donald Trump, that's troubling," Obama was quoted as saying by USA Today.
The president will be back in North Carolina on Friday, 4 November, for rallies in Fayetteville and Charlotte.