Amir Khan may well have the chance to face Floyd Mayweather in what would be a huge opportunity for the British fighter after the American's camp admitted they wanted to secure a fight in England inside the next 18 months.
The early suggestions are that Mayweather could face Khan in a defence of his WBC welterweight title in an open air stadium show that would surely be the biggest fight on these shores for decades.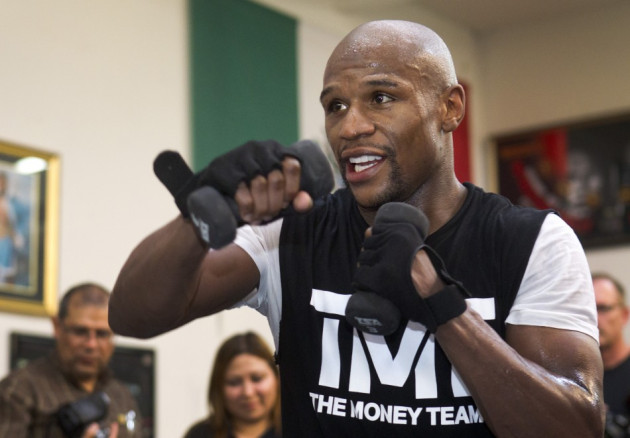 Khan is currently ranked as number two in the WBC welterweight division, despite having never fought at 147lbs, and has been mentioned as a possible opponent for Mayweather for some time.
The Olympic silver medallist secured a hard fought victory over Julio Diaz on Saturday night in Sheffield, while Mayweather will face Robert Guerrero on May 4 in Las Vegas.
The undefeated American has often stated that he would like to fight in the UK and it now seems a genuine possibility after comments from his adviser Leonard Ellerbe.
"Floyd cannot wait until we can come over there and give the UK fans a big, big fight," stated Ellerbe. "Floyd has a tremendous fan base in the UK and we're looking at working on something now where he's going to come over there.
"Ever since the Ricky Hatton fight back in 2007, UK fans have been very loyal to Floyd and he definitely acknowledges that and he wants to bring a big, big event to the UK.
"There's definitely a very strong possibility that Floyd will fight in the UK. We'll see how this thing plays out, his focus is Saturday night and then we'll go from there. But we're definitely going to bring a big, big event to the UK."
Mayweather plans to start the build-up to a major British fight with a tour later this year where he'll meet with fans and make a number of high profile TV appearances.
Ellerbe explained: "He won't be over for a fight initially, but we're going to come over there and do some stuff.
"I'm talking with a couple people now and they're giving me some options, and Floyd will definitely be coming to the UK. The UK are his biggest and best fans. He has tremendous love affair for the UK fans."