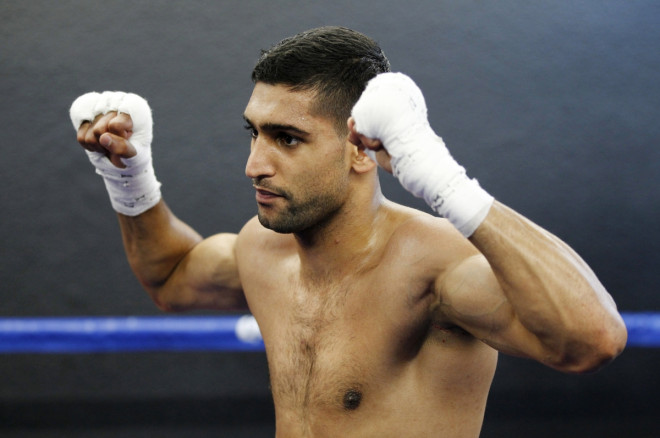 Former world champion Amir Khan will take on Luis Collazo on the undercard of Floyd Mayweather's Las Vegas showdown with Marcos Maidana on May 3.
The Bolton-born fighter announced the fight on Monday afternoon through his Twitter account ahead of leaving for the US to continue his training camp ahead of his return to the ring.
I will be fighting Luis Collazo on May 3rd Las Vegas #MayweatherMaidana Chief support

— Amir Khan (@AmirKingKhan) March 24, 2014
A prospective bout with five weight world champion Mayweather never materialised for Khan despite winning a poll ahead of Maidana to decide the American's next opponent.
But after a frustrating spell of inactivity that stretches back to April 2013, the British fighter will return to action and make his debut at welterweight against a former opponent of Ricky Hatton in Las Vegas.
"He gave Ricky a tough fight back in 2006 and we know it's not going to be easy," Khan told Sky Sports News. "He's had a good win in his last fight so he's going to be confident and come to fight.
"It's going to be my first fight at 147lb so he's going to come at me with everything. We are going to be ready for this and we've been waiting a long time.
"I've had a long break, but I've been in the gym and working on mistakes I've made, getting strong and taking time to relax and not think about the boxing side of it.
"I've been working non-stop though, having some great sparring sessions that will hopefully keep off the ring-rust so I'm going to come in there and give it 100 percent."
Collazo currently holds an impressive record of 35 wins -18 via knock out - with just five losses and will enter his bout with Khan on the back of a four fight winning streak, including a victory over Victor Ortiz in New York at the start of the year.
It will be Khan's first fight since struggling to overcome Julian Diaz in Sheffield last year, having shelved a bout with Devon Alexander last December to prepare for a meeting with Mayweather that never came.
Mayweather has previously proposed a match between Khan and Adrien Broner on his Las Vegas undercard to determine his next opponent, an offer Broner rejected, according to Khan.
But the 27-year-old still has the undefeated American in his sights.
"I'll probably be at ringside for Mayweather's fight against Maidana and will call him out again in the press conference so we'll have to see what happens," Khan added.
"I think he wants the fight and there's a lot of public demand for it. There's not a lot of fights out there for him so if he wants to have another three fights in his career I have to be one of them."