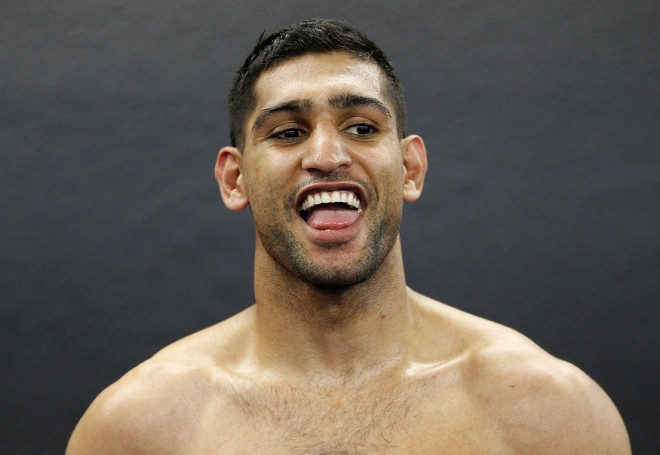 Amir Khan has dismissed Floyd Mayweather Jr's promise of a meeting later in 2014 should the Brit defeat Adrien Broner on the undercard of the unbeaten American's bout with Marcos Maidana in May.
Khan was overlooked as Mayweather's next opponent despite signing his part of the agreement and winning an online poll on the 37 year old's official website.
The Briton has responded with scathing criticism of Mayweather who has offered the former two-time world champion the possibility of a meeting later in the year should he defeat Broner, his rumoured next opponent, on 3 May
"I don't have an easy fight on May 3, 2014, so I can't over look @ChinoMaidana but @AmirKingKhan, if you and @AdrienBroner end up fighting each other on my show and you win (which you won't)... I'll fight you," Mayweather wrote on Twitter.
Despite having originally requested the meeting with Broner to be billed as an eliminator to fight Mayweather, Khan replied: "FM is full of shit. Just like ' my next opponent ' Poll."
Having missed out on fighting Mayweather, Khan is expected to agree a meeting with Broner, who had his unbeaten record ended by Maidana in December.
"A few names have been put to me - even someone like Broner would be a great fight for me," he told Sky Sports.
"The fight would probably be in America and possibly be on a Floyd card as well. But I have a contract with Showtime, so I have my own television deal in the US.
"More than likely the fight will probably be in America. There are a few names, I'm going to sit down with Golden Boy and my team."
Khna last fought in April 2013, defeating Julio Diaz in a unanimous points decision and faces 13 months between bouts before appearing on the Mayweather-Maidana undercard.