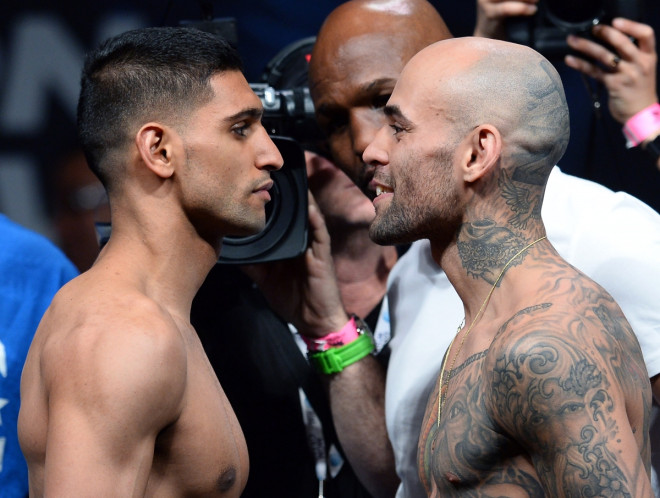 Amir Khan and Adrien Broner will be looking to move into contention for a meeting with Floyd Mayweather Jr in their respective bouts with Luis Collazo and Carlos Molina at the MGM Grand in Las Vegas.
Where to Watch:
Khan v Collazo and Broner v Molina lead the undercard of Mayweather v Maidana in Las Vegas. The show is available live on BoxNation on Sky channel 437 and online at LiveSport.TV. Details of how to subscribe to BoxNation are available here. The card gets underway Saturday night/Sunday morning at midnight (BST).
Preview:
It's been a frustrating 12 months for Khan who shelved a December bout with Devon Alexander such was his desperation to secure a May showdown with Floyd Mayweather. Marcos Maidana's red hot end to 2013 ensured the Argentine was given the nod however and while that has merely delayed the inevitable meeting between the Brit and the unbeaten world champion, Khan's focus remains on 33-year-old Collazo.
But just as Maidana did through his performance against Adrien Broner last December, a dominant performance should see Khan earn his golden ticket for a meeting with the best pound for pound fighter in the world.
The Bolton-born fighter will have to be wary of the experienced southpaw, however. It's been just over a year since his unconvincing win over Julio Diaz and questions have been asked whether the he is truly focused on the challenge at hand. His superior speed, mobility and sheer technical superiority should see him outpoint Collazo as effectively as he did against Carlos Molina in 2012, but the Brooklyn-native's power should Khan find himself in a brawl will pose a threat.
How do you solve a problem like Broner? Marcos Maidana certainly found a way last December but Saturday presents the self-appointed heir to Mayweather's throne with his chance to reclaim a spot in the upper echelons of the welterweight division. On paper it appears Broner's meeting with Carlos Molina is a mismatch; the Mexican was soundly put down by Khan two years ago and it seems likely Broner, driven by a need to banish the memory of his first career loss, will prove too strong, particularly given his opponent's 16 month absence from the ring.
What They've Said:
Amir Khan: I'm not thinking about other possible fights, my mind and my attention is solely on Luis Collazo. To overlook him would be foolish, he needs to be respected and I give him that respect.
"I don't know what the future holds for me, all I know is I have to get through Luis Collazo to see what that might be. It's a tough fight but one I'm ready for and very confident about.
"I can't wait to get in the ring on Saturday because it's been so long - I wish it was tomorrow."
Luis Collazo: "This fight [against Khan] is my whole career right in front of me. I believe if I beat Amir Khan I have a bigger future in boxing and if I don't, I have to start from the bottom again. I am not looking beyond Amir Khan. He is my main focus. From here whatever happens happens, but Amir Khan is all I'm thinking about right now.
"A win over Khan does put me in the Mayweather sweepstakes, but my sights are set on Khan."
Broner: "Molina's got a lot of heart. He's a punching bag with arms and legs. It's more of me just being more focused," said Broner. "I've really cut off all contacts, and I've not been on the internet. I have just been focusing on boxing. Now, we're back, and I'm going to make an example out of this boy on Saturday night."
Molina: "With his style, he's more of a guy who likes to pot-shot and likes to pick and choose his places when he's going to throw his punches. He doesn't have a lot of footwork. Amir Khan, what gave me trouble was that he had a really long reach. He used his legs a lot. He would throw flurries and move. Adrien Broner's calling me the punching bag, but in his last fights, I haven't seen him moving a lot," said Molina.
Records:
Khan: 28-3 – 19 knock outs
(W) Julio Diaz by unanimous decision, April 2013
(W) Carlos Molina by technical knockout, December 2012
(L) Danny Garcia by technical knockout, July 2012
Collazo: 35-5 -18 knock outs
(W) Victor Ortiz by knock out, January 2014
(W) Alan Sanchez by unanimous decision, September 2014
(W) Miguel Callist by technical knock out, April, 2013)
Broner: 27-1 – 22 knock outs
(L) Marcos Maidana by unanimous decision, December 2013
(W) Paulie Malignaggi by split decision, June, 2013
(W) Gavin Rees by technical knockout, February, 2013)
Molina: 17-1 – 7 knockouts
(L) Amir Khan by technical knockout, December 2012,
(W) Marcos Leonardo Jimenez by unanimous decision, June 2012
(W) Angino Perez by unanimous decision, March 2012
Rest of Card:
Adonis Stevenson v Andrzej Fonfara
Juan Manuel Marquez v Mike Alvarado
Chris Arreola v Bermane Stiverme
Martin Gethin v Derry Mathews
Floyd Mayweather v Marcos Maidana