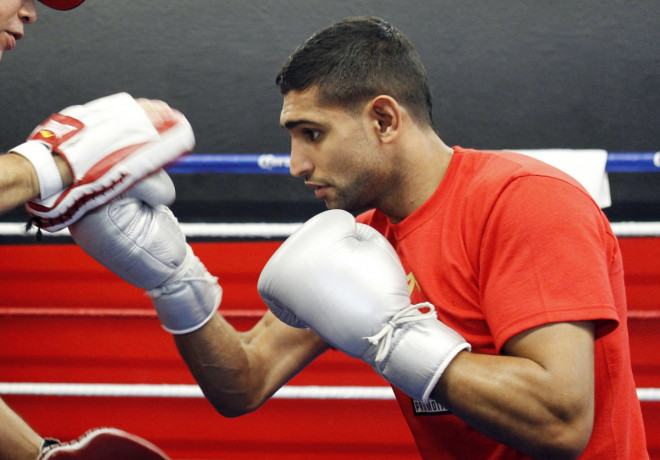 Amir Khan will announce his next opponent in 10 days after the former British world champion saw a prospective bout with unbeaten American Floyd Mayweather Jr fall through.
Khan prevailed in an online poll between himself and Argentine Marcos Maidana, a vote set up by Mayweather in order to allow fans to decide his next opponent.
However, a deal has now been struck between Mayweather and Maidana for a fight to take place on 3 May, leaving Khan fuming with the 37 year old whom he has criticised for not agreeing to the bout.
"Despite having signed my part of the agreement to fight Floyd in early December, I've been preparing myself for some time that the match up with him wasn't going to happen, as I announced on Twitter a few days ago," Khan wrote on his official website. "Therefore, this announcement did not come as a surprise.
"I am, however, very disappointed with Floyd and his team for not providing any explanation as to why he delayed the announcement for so long and ultimately avoided the fight with me.
"Clarification, if he was not fighting me, would have allowed me to look over my options and pursue another path, rather than the ultimate delay to my career this has caused.
"It has been a very frustrating period as I'd been due to fight in December against Devon Alexander, however, I was strongly advised to not take this fight as I would be facing Floyd this May – and therefore signed my side of the contract on this belief."
Khan hasn't fought since beating Julio Diaz in an unanimous points decision last April but now appears on the brink of agreeing a meeting with a new opponent in the coming days.
"As a team we have now moved on and are looking at different options," he added. "I've been training very hard since my last fight. I'm a fighter who wants to face the very best out there and have never ducked any opponent.
"I'm focused and ready for my next outing - we currently have a few options on the table at the moment and my team are working alongside Golden Boy Promotions to announce my next fight within the next 10 days.
"I can't wait to get back in the ring and am determined to put on a great show for my loyal fans who have waited a long time to see me back in action – and I'm very excited about what's yet to come this year. Thank you for all your continued support."