Amir Khan got ripped to shreds by the viewing public after he screamed and ran away from a snake during the Critter-Cal Rescue Bushtucker Trial on I'm A Celebrity last night (20 November).
The 30-year-old boxing Olympic medallist was even mocked by his pregnant wife Faryal Makhdoom on Twitter, who said: "I don't think my hubby @amirkingkhan realizes what he got himself into #ImaCelebrity @ITV".
Viewers of the show couldn't quite believe it when Khan shouted "I'm a celebrity... get me out of here!" during the first trial with Georgia "Toff" Toffolo, who seemed the more likely one to yell the infamous words as she lay in an underground coffin infested with stinking critters.
But it was the champion pugilist Khan who did most of the screaming, and gave up on searching for the keys during the challenge after being faced with his biggest fear – snakes.
While Toff was locked in the dark chamber lying on her back, Khan was tasked to make his way around a giant underground termite nest in search for eight keys attached to numbered disks. The eight keys could then be used to undo the padlocks on the door of the chamber and rescue the Made in Chelsea star, 23.
Khan showed signs of struggling early on in the 10-minute trial when he encountered maggots, but froze when he saw the hole of snakes and said: "I'm scared, I can't do this man."
When he tried to pull out the key from the hole he ended up picking up the python instead, causing Ant and Dec to laugh hysterically as he screamed and made his way back outside, surrendering.
Toff said: "Why did you say that?! We're not going to eat!" and the pair went back to the camp empty-handed, with soap star Jamie Lomas in disbelief that Khan threw the towel in.
Fans of the show found the challenge hilarious, with many taking to Twitter to mock the boxing champ.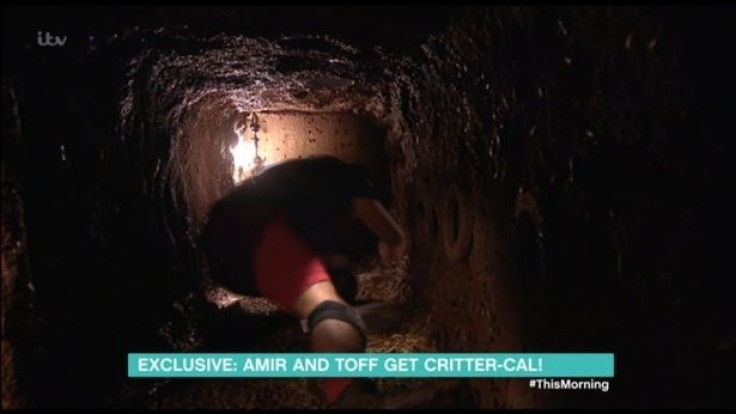 One person tweeted: "I pulled out a python, nearly died" looooooooooooool na Amir Khan is the funniest ".
While another added: "If he carries on like last night then he will become a joke. Can't believe nobody prepped him."
A third said: "#AmirKhan is doing his reputation no favours. No wonder why he has been avoiding @SpecialKBrook he can't even handle a little cave with some critters, surprised he didn't knock himself out with that snake #GlassJaw".
Others couldn't help but refer to Khan's accusation about his wife Makhdoom cheating with fellow boxer Anthony Joshua earlier this year...
I'm A Celeb continues tonight at 9pm on ITV.