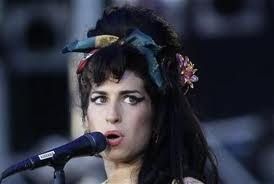 There have been fresh allegations in today's newspapers that Amy Winehouse was forced on stage before her disastrous concert in Belgrade which sparked her management to cancel her whole European Tour. A member of a support band that played at the same Belgrade festival as Amy Winehouse has claimed that the singer was forced onto stage by four British bodyguards after it was apparent the singer was trying to leave the venue.
Anna Joe Kida, a member of Zemlja Gruva has claimed that Amy Winehouse tried to leave the stage area before she was forced to perform in front of the baying crowd. The band who played alongside Amy Winehouse at the city's Kalemegdan Park says that Winehouse did try to leave the arena but was physically thrown onto stage. Anna Joe Kida has said: Four British bodyguards simply pushed her to step up on stage. She did not want to and was making a scene trying to escape them. It was distressing to see, she obviously needed help."
The concert was so disastrous that many Serbian's have claimed Amy Winehouse's performance was the worst ever seen ion the nation's history. Winehouse was allegedly drinking before she went on stage and her management have confirmed that she was checked into the priory clinic only a week before the shows. Winehouse was booed throughout her ninety minute horror show as she gave shambolic performances of some her most iconic songs including 'Valerie' 'Back to Black' and 'Love is a losing game.'
A spokesperson for Amy Winehouse has denied the allegations from the support band and has said that the singer 'walked on stage voluntarily with a friend.' The whole of her European Tour has now been cancelled with reports that the singer has once again been drinking heavily and taking drugs.
2011 was supposed to be the comeback year for Amy Winehouse but it has turned into a nightmare for the singer. At her best she is an unparalleled talent but it seems the singer has lost all enjoyment and passion for it all. Her comeback album was supposed to be released in December 2010 and there have been suggestions within the tabloid media that Winehouse will pack her career in and never walk on stage again.