Analysing the Deal Behind Flipkart's Big Billion Day Sale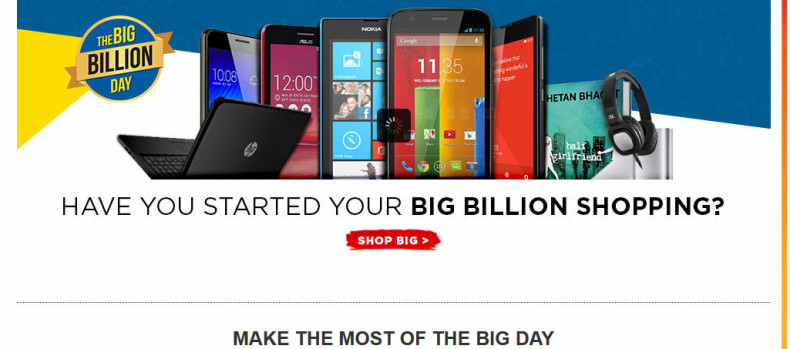 On 6 October, the whole of India was in near-celebration mode, not because the Diwali festive season was about to begin in fifteen days' time, but because Flipkart was celebrating its 'Big Billion Day'.
Even the budget Xiaomi Redmi 1S was offered as part of the 'Big Billion Day' celebrations on Flipkart. For those of you who do not know what the big billion day was all about, it is equivalent to the popular 'Black Friday' sale that takes place in the US.
Unrealistic discounts were offered by sellers on Flipkart, on almost all categories of products, ranging from toiletries to the latest sophisticated gadgets. The unrealistic nature of the discounts had no limit, and some sellers claimed to offer up to 90% discount on their multiple products.
With such absurd discounts on products, Flipkart also aimed at making quick money, that is, as much as 1 billion Indian Rupees, within a matter of 24 hours (The Big Billion sale lasted for just one day, 6 October 2014).
People also seemingly embraced Flipkart's 'billion dollar' sales pitch, as the company reported a Rs six billion sale on the Big Billion Day.
But was the Big Billion Day as rosy as it promised? Let's find out.
Were the offered discounts real?
It seems that the discounts were in fact the original price of products. Take for instance the 64GB USB pen drive manufactured by Transcend, in the screenshot below.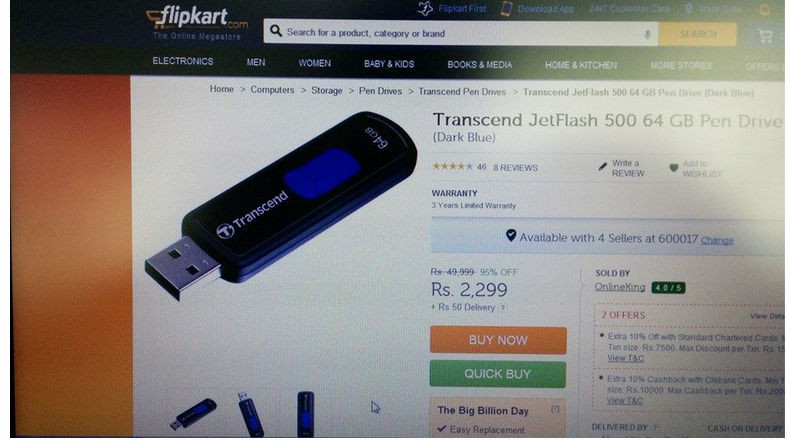 Take a look at the device's original price. The price mentioned is Rs 49,999 (£507), and the device is claimed to be offered for a price of Rs 2,299 (£23) which represents a near 95% discount which seems really unrealistic.
On an average, a Transcend 64GB pen drive can be purchased for Rs 2,500 flat without discounts from any online (and offline) retailer in India. So, why fool prospective buyers into believing that the pen drive indeed costs Rs 49,999 before it was offered by Flipkart for a 95% reduced price?
Apparently, it would have done Flipkart a world of good if they had offered the pen drive at its original cost rather than repackaging the deal.
In another instance, a MacBook Air, after discounts showed a cost of Rs 56,490 (£573) on Flipkart, on Big Billion Day. Competitors such as Snapchat offered the same device for Rs 50,000 (£500).
Also, a Twitter user has clearly pointed out the glaring increase in prices before and during the Big Billion Day sale. Check out the screenshot below.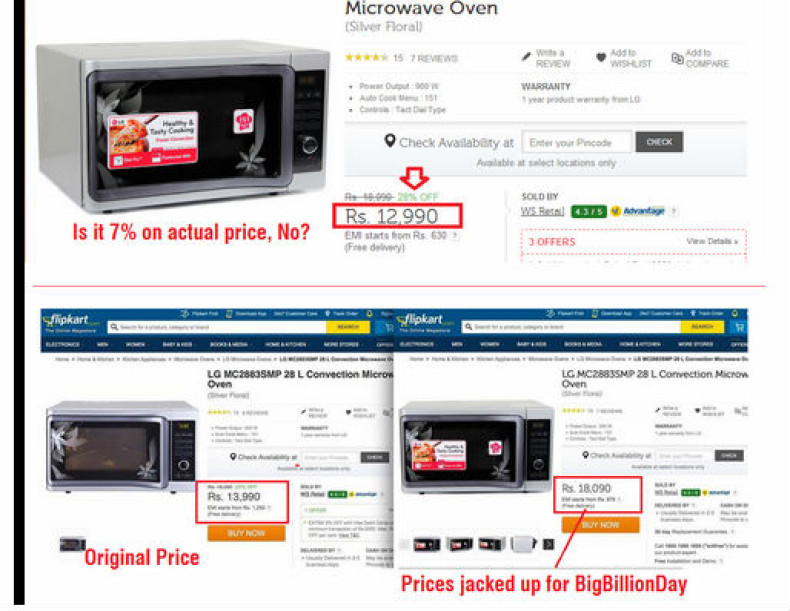 Orders on big billion day cancelled automatically
Various buyers who ordered products from Flipkart on Big Billion Day reported that their orders were automatically cancelled, with a refund due in the next seven days.
A buyer (on the condition of anonymity) shared with IBTimes UK the cancellation message received from Flipkart, after his order was accepted and processed.
Here is the message: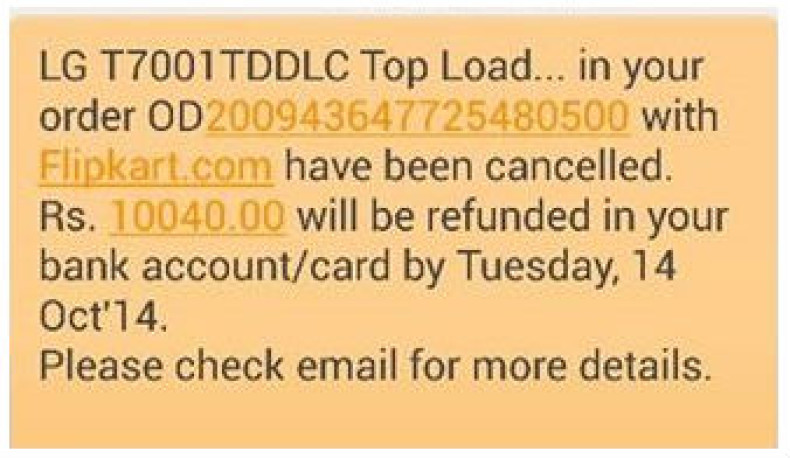 Remember that the above order was auto-cancelled by Flipkart, without the buyer cancelling it.
Also keep in mind that product stocks were displayed as available during the time the above user placed his order on Flipkart.
Another user, quoted by DNA also had his order (on Big Billion Day) auto-cancelled by Flipkart.
"It is understandable if I order 5 products and they cancel a few, but this was the only one I ordered. What is more surprising is that the same product was seen on sale at a higher price hours later which means they are definitely not 'out of stock,'" stated the disgruntled user, to DNA.
The e-commerce giant is promising to refund buyers' money by 14 October, which means that they are in possession of buyers' money for a good one week.
Angered users vent ire against Flipkart
People wanting to buy, and those having bought products on Flipkart during the Big Billion Day reportedly had to deal with issues such as 'Server Breakdown', in addition to the unrealistic discounts and auto-cancellation of orders.
These users have taken to social media site Facebook, to vent their ire against Flipkart. Click here to check out user comments.
It's Amazon's turn
Amazon India has also announced a 'Diwali Dhamaka Week' that kicks off from 8 October in India. It may seem a bit premature to say that the Flipkart scenario will repeat in Amazon's Diwali Dhamaka Week, but you are advised to be alert before participating in the sale.