An ancient infant burial site has been found with figurines which resemble modern-day rattles. Archaeologists found the 4,500-year-old burial site north of Abakan, South Russia.
The infant was estimated to be less than a year old at death, say researchers from the Russian Academy of Science. Lying on top of the newborn were a series of 'horn figurines' which appear to be human-like characters, similar to dolls. It was also surrounded by a stone ball, a white metal ring, copper plaques, and a vessel used for funeral practices.
"[The figurines] could have fulfilled the role of toys," write the researchers. "In addition, some of them have internal cavities and, upon coming in contact with each other, could produce noisy sounds like modern rattles."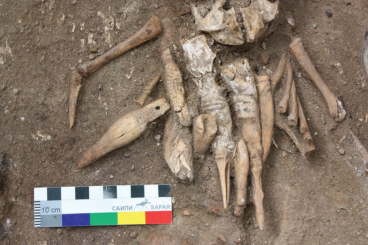 The researchers, Andrey Polyakov from the Institute for the History of Material Culture, and Yuri Esin, Khakassian Research Institute of Language, Literature, and History, hypothesised on the relevance of carvings on the side of the 'toys'. The images on the figures could have been used as a means for fending off evil spirits, they say.
They write: "Here, [the figurines] fulfilled the role of apotropaic (the power to avert bad spirits) charms of a little child who especially needed protection and auspices of the supernatural forces. Various apotropaic charms are a necessary element of cradle decoration in the traditional cultures."
The burial site is also home to four other ancient graves, all within roughly five metres squared. This type of burial mound is often referred to by using the Russian word 'kurgan', originating from Soviet archaeology.
The infant is buried with a cone-shaped 'headgear', or 'hat' as the researchers later refer to it as. They suggest that the headgear was used as a way of representing the male and female image, although there was contradictory evidence in the burial mound.
"At least one of these characters is a woman, as indicated by large breasts and a convex belly," describe the scientists. "At the same time, another representation with such a hat does not show any female attributes on the body."
The research has been continuing since 2007, and the archaeologists have been focusing on the site of this discovery, at Lake Itkul, Republic of Khakassia. The team first began excavating this particular burial mount in 2010.