Researchers exploring world's largest underwater cave system have found a treasure trove of Mayan artefacts and fossils dating back to the last Ice Age.
Initially, archaeologists saw Sac Actun and Dos Ojos underwater caves as two separate systems on Mexico's Yucatan peninsula. However, last month, a group of explorers from Gran Acuífero Maya (GAM) found that the two networks were connected with a long passageway. This made the entire archaeological site as much as 347km long.
When the exploration of the massive cave system started, the group discovered a plethora of artefacts linked to Mayan civilisation, and human and animal remains.
This included several thousand years old burnt human bones, a skull and fossils of bears, giant-sloths, and gomphotheres — a long-extinct elephant-like animal, according to a report in Agence France-Presse (AFP).
The research team also found wall etchings, ceramics, and a shrine of the Mayan god of war and commerce. The cave, as the report says, is linked to hundreds of sinkholes that bear signs denoting some kind of ritual activity. One of the sinkholes even leads to a staircase of the cave from the middle of the jungle.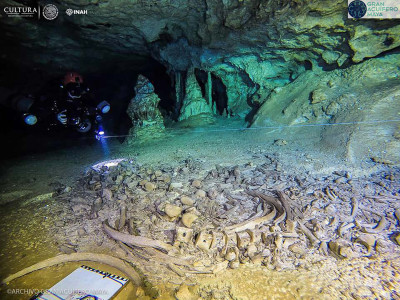 The latest findings, revealed by Mexico's National Institute of Anthropology and History, suggest that the cave not only dates back to the last Ice Age, sometime between 2.6 million and 11,700 years ago but, was also a sacred site for ancient Mayans.
Guíllermo de Anda, underwater archaeologist and director of GAM, believes that the site served as a critical source of freshwater, particularly during droughts. "It is very unlikely that there is another site in the world with these characteristics," de Anda told AFP.
"There is an impressive amount of archaeological artefacts inside, and the level of preservation is also impressive."
The researchers are still exploring the depths of the massive underwater cave and believe the site could also be connected to other closely-located systems. If such connection is proven, the site could make up a behemoth of a cave system spanning thousands of kilometres underwater.