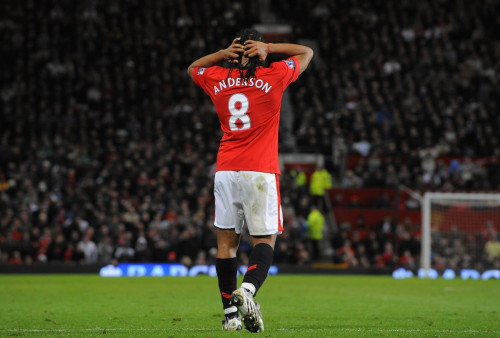 After slamming a penalty past Petr Cech to help Manchester United lift the Champions League trophy in 2008, it was widely acknowledged that this was the first of many defining moments for Anderson Luis de Abreu Oliveira.
But now, as he stands on the cusp of a move to Fiorentina, the most accurate way of defining the Brazilian's six and a half year spell at Old Trafford is disappointment.
Anderson's seemingly imminent exit could be the first of many departures so many United fans have been hoping for but it's a testament to just how little regard remains for the former Porto youngster that he is the first to leave the club.
Given the difficulties that come with signing players during the January transfer window, it's far from beyond the realms of possibility that David Moyes' side will not bring in the additional midfield options they are desperately crying out for.
Should Anderson complete his move to Vincenzo Montella's Fiorentina, the United boss will be short of another option. The 25-year-old has been overlooked by Moyes throughout the season as the Scot has favoured almost any alternative such has been his lack of faith in the midfielder.
A 40-year-old Ryan Giggs and centre half Phil Jones have regularly been preferred in the centre of midfield while the manager and supporters alike have pondered the possibility of recalling youngsters Nick Powell and Ryan Tunnicliffe to supplement the shortage in the centre of the park. It's Anderson's most damming criticism that all above have been considered ahead of him.
It seems like a lifetime ago that the permanently grinning Brazilian effortlessly won over Old Trafford crowds after arriving as an 18-year-old in 2007 for a fee of €20m. His powerful performances at Anfield and the Emirates Stadium in centre midfield earned him countless plaudits and in the case of the Arsenal game, his chant colourfully illustrating his overpowering showing against Cesc Fabregas. Sadly, that song is likely to have more lasting legacy than the impact he has had on the first team for the last three years of his career.
Two serious knee injuries, one in February 2010 and another in 2012, have largely impaired the midfielder. While long term absences through injury can seldom be helped, questions of his work ethic, weight problems and attitude to training have often surrounded him during his absences from the starting XI.
A grand total of 127 starting appearances in all competitions in six and a half seasons surmises Anderson's woes. But perhaps the most disappointing aspect of his failure to thrive during his time at Old Trafford is that so many people were desperate for him to do it. With his driving performances in midfield when he was enjoying his football coupled with his naturally likeable personality, the desire to see him succeed and be the long term solution to United's midfield was palpable, even from the man who bought him to the club.
"He is still only 22, he had electric pace from a standing start and a great appetite for the ball, which he can work out of very tight situations," Sir Alex Ferguson said of Anderson in 2010 following a particularly rich vein of form that earned him a new four and a half year contract.
"Opponents can never rest easy when he is buzzing around them. Injury to Paul Scholes has given Anderson an extended run that he has grabbed and long term I hope he can prove to be Paul's successor."
It would now appear Anderson's time at United has run out. Fiorentina's director of sport Daniele Prade yesterday confirmed talks were ongoing with the club keen to enlist the midfielder and given Moyes' reluctance to afford him game time this season, the club are likely put up little resistance.
But while he may have failed to live up to his billing, Anderson is likely to be remembered fondly. Going nose to nose with Steven Gerrard, battling Cesc Fabregas across the pitch and showing the fortitude to convert a penalty in the face of possible defeat in a Champions League final will be cherished memories when the man from Porto Alegre leaves the club. But as one of the most naturally talented midfielders during his time at the club, questions will always be asked of what could have been.