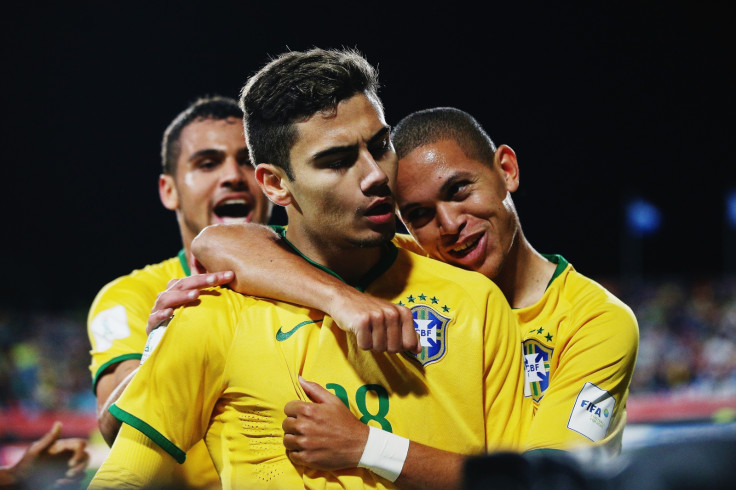 Manchester United starlet Andreas Pereira maintains it has always been his goal to build a successful career at Old Trafford and wants to get as many opportunities as possible in the upcoming season.
Pereira, 19, was handed his first team debut by Louis van Gaal against Tottenham Hotspur in March, weeks before signing a new deal with the club.
A contract impasse earlier in the year had raised doubts over his future at the club, with Paris Saint-Germain and Juventus both credited with interest in luring the attacking midfielder away from the club.
But Pereira insists his sole objective is now to become a regular fixture in the first team at Old Trafford.
He told Bleacher Report: "When I heard about the interest I was delighted with the possibility of playing at Old Trafford. Manchester United is the biggest club in the world. When I managed to play my first game last season, I was over the moon, it was like a dream come true. I was very happy to be able to renew my contract with Manchester United. My objective was always to stay and have a successful career at this club. Van Gaal is a great coach and I am grateful for the opportunity that he is giving me.
"I want to get more opportunities and have the chance to play as many games as possible."
Pereira did not feature for United in the closing stages of the 2014-15 season after being selected to play for Brazil at the Under-20 World Cup in New Zealand.
The teenager was on the losing side as his team fell to Serbia in the final – a game in which he scored one of the goals of the competition.
"It was incredible to play and challenge at a World Cup for Brazil," he continued. "Unfortunately we lost the final. We had chances to win but it wasn't supposed to be that day. Serbia had a great collective and deserved to be world champions. We had a few chances to turn the game around, but unfortunately we didn't success. It's part of the game."