Andres Iniesta says 'good news' regarding new Barcelona deal will come 'soon'
Spaniard was speaking following the Champions League's 1-0 victory at Sporting Sporting Clube de Portugal.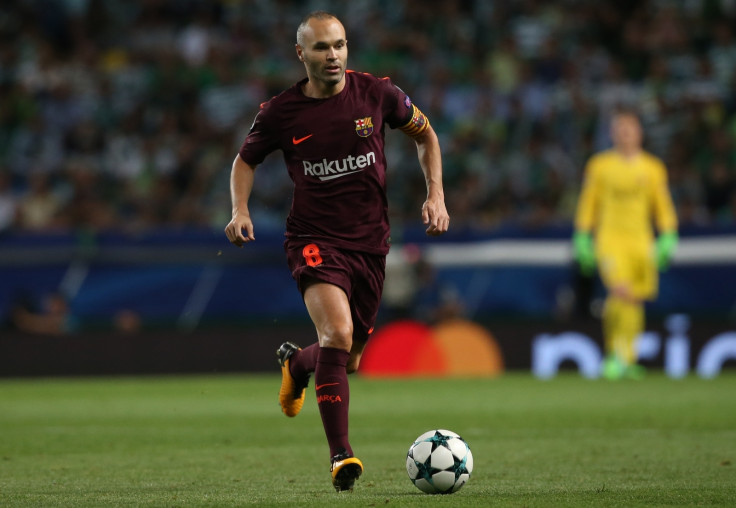 Andres Iniesta has dropped a major hint that he will sign a new deal at Barcelona after claiming that "soon" there will be "good news" regarding his future at the Nou Camp.
The captain's future at the La Liga giants has come into question in recent times with his current contract set to expire at the end of the current season.
Reports emerged that the 33-year-old midfielder was having doubts over extending his stay at Barcelona after he saw his playing time restricted by Luis Enrique during the last campaign.
Iniesta added more confusion to the situation earlier this month after revealing that he was yet to make a decision over his future. This came only days after Barcelona president Josep Maria Bartomeu had claimed that the club had reached an agreement in principle for the player to commit his long-term future to the Nou Camp.
Bartomeu later explained the misunderstanding after holding an emergency meeting with Iniesta to clarify the situation.
Two weeks ago the president suggested that the conversations with the player had been fruitful with the club offering Iniesta a new special contract which will let him to decide when it is the right time to hang up his boots.
"The agreement with Iniesta will be special, it will be different just because it is him. I won't reveal exactly what because it is part of private negotiations. We have been talking with his agent Ramon Sostres for a long time and we will keep advancing [the negotiations] as the will of both parties is for Iniesta to continue. I am sure that Barcelona members would say [give] Iniesta whatever it takes [for him to stay]," Bartomeu said.
"Iniesta isn't just a reference point for us, but also for the youngsters. He has earned the right to play here until he decides not to any more. The club's fans should be calm. We have seen these days that Andres is a key player for the club and Valverde counts on him. We are talking to his agent and the intention is that this extension will be an indefinite contract so that he can finish whenever he desires."
Iniesta has now suggested that the agreement is eventually closer than ever after the Barcelona captain has recovered a leading role in the opening part of the season following the arrival of Ernesto Valverde.
"I think the good news will come soon," Iniesta said as quoted by Mundo Deportivo when asked about his new deal following the Champions League 1-0 victory over Sporting Sporting Clube de Portugal on Wednesday night (27 September).
"This is the Champions League and away games are always difficult. They have good players and from midfield going forward they attack well and work together well. We tried to stop them and we mostly did it. We played a complete game. In games there are phases of all types you have to know how to do it. This is the way, to improve. And that is what we are trying. We are trying to do what the coach asks us. The important thing is to put yourself out there, with confidence and from there the team will grow."
© Copyright IBTimes 2023. All rights reserved.