Alastair Cook is the new England test captain after Andrew Strauss confirmed his retirement from all forms of professional cricket.
Strauss played 100 test matches, the last of which came in the recent series against South Africa, and led England to No.1 in the ICC test rankings as well as back-to-back Ashes series victories against Australia.
The 35-year-old captained England in 50 tests, claiming 24 wins, and scored 7037 runs in 178 innings in the five-day form of the game. He also forged a symbiotic partnership with coach Andy Flower, catalysing the most successful era in English cricket history.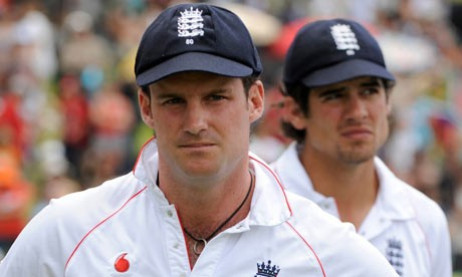 "After much thought over the last few weeks, I have decided to step down as England Test Captain and announce my retirement from all forms of cricket," Strauss said.
"It has clearly been a tough decision to make, but I believe that it is both in the best interests of the England cricket team and myself to step down at this stage.
"There are too many people who have helped me on this incredible journey to mention them all by name, but I would like to thank all the Middlesex and England players I have played alongside, as well as the phenomenal coaches and support staff with whom I have been fortunate enough to work.
"Particular mention has to go to Andy Flower and Duncan Fletcher in that regard. It would also be remiss of me not to thank Middlesex County Cricket Club, the ECB and the PCA for their support and guidance over the years.
"No one can play international cricket for any length of time without having an incredibly strong support network around them, and I would like to take this opportunity to thank my family for going through it all alongside me over the course of my England career.
"I am extremely proud of everything I have achieved as a cricketer, and I have found myself very fortunate to play in an era when some of English cricket's greatest moments have occurred.
"I have loved every minute of it. All that remains is for me to wish Andy, Alastair and the rest of the team the very best for the coming months. I will be an interested spectator."
Following his debut at Lord's against New Zealand in 2004, Strauss took little time to install himself as a vital cog in England's top order batting unit under Fletcher, helping the country to a 2-1 series win over Australia, hitting two centuries against one of the world's most fearsome bowling attacks, which included Shane Warne and Glenn McGrath.
Having missed out on the captaincy for the 2006/07 Ashes series to Andrew Flintoff, despite previously leading the side to a series win over Pakistan, Strauss went on a run of 15 matches without a century before an eight-hour innings in New Zealand cemented his international future when it seemed most at risk.
Strauss was handed the opportunity to lead his country permanently following a row between captain Kevin Pietersen and coach Peter Moores in 2009.
Alongside Flower, appointed coach in Moores' stead, Strauss laid foundations which would help England become the best test team in the world. The pair began in earnest with an Ashes win in 2009, before a 3-1 victory down under in 2010/11 - which made Strauss the first captain in 24 years to win in Australia.
A 4-0 series whitewash against India saw England climb to No.1 in the ICC test world rankings, a status they held until Strauss' final bow against South Africa in his final and 100th international test.
The back end of his career was underminded by a combination of England's decline in form, his own domishing dominance with the bat and the fall-out from the controvercy surrounding his relationship with Pietersen, which has seen the 32-year-old banished from the dressing room and leaves his future international career hanging by a thread.
One-day skipper Cook, with whom Strauss opened 117 times and scored 4711 runs, will succeed him as skipper, having helped England achieve 10 successive one-day wins and reach the top of the 50-over rankings prior to Tuesday's defeat to South Africa.
"Andrew's contribution to England cricket in recent years is evident to everyone who follows the sport, but only those of us who have been lucky enough to share a dressing room with him are fully aware of his immense contribution to our success," Cook said.
"He has been a fantastic captain, has led from the front for three-and-a-half years and is a true ambassador for the game.
"To have played 100 Tests for your country is a phenomenal achievement and I want to congratulate him on a superb career.
"I know this can't have been an easy decision for him and everyone in the dressing room will be sad to see him go.
"I'm very excited by this new challenge, it is a huge honour to be appointed Test captain and I am very much looking forward to captaining the side in India this winter and beyond, but my immediate focus is on this current NatWest one-day series.
"Once the series is over I will turn my attention to the Test captaincy and building on the work Andrew has started."