We pit the world's two most popular mobile operating systems against each other, looking at the very latest verison of each and seeing which one comes out on top.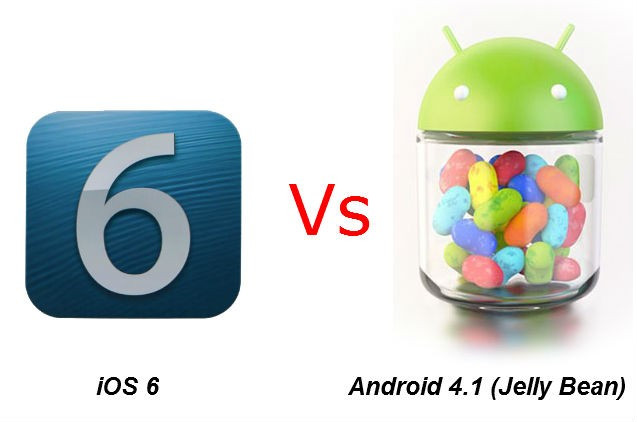 Introduction
Within just weeks of each other, Apple and Google both showed off the latest and greatest they have to offer with their mobile operating systems - and both are due out later this year.
First Apple took to the stage to give a preview of iOS 6 for iPhone, iPad and iPod touch, showing off a significant upgrade to Siri, an all-new Maps app that does away with mapping from Google in favour of its own images and deeper social networking integration.
Just a couple of weeks later, Google returned fire at its I/O conference, giving Android 4.1 Jelly Bean its debut, with a refined design, Google Now and a whole host of new features.
Both operating systems are available to developers now, but while iOS 6 will not be out to the public until the autumn (presumably alongside a new iPhone and maybe even an iPad mini), Android Jelly Bean will arrive on the Nexus 7 tablet in July.
Android Jelly Bean and IOS 6 are not yet finished products and may well change before they are released to the public, so this comparison is based purely on what we have seen of each operating system so far.
iOS 6 vs Android 4.1: Siri and Google Now
Apple's 'humble personal assistant' Siri is getting a major update with iOS 6 that adds the ability to read sports results, make a restaurant reservation and books cinema tickets.
Siri in iOS 6 can also launch applications - something we always thought it should have done before - and our request to "take a photo" now works, having previously suggested, rather unhelpfully, that it is not a photographer.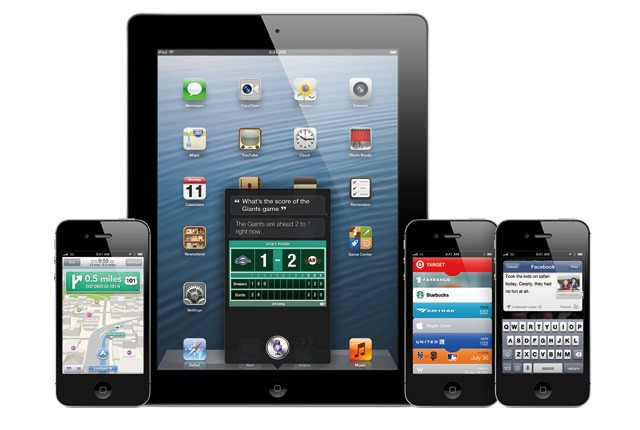 Apple has partnered with a number of companies to provide these results, with Rotten Tomatoes providing film reviews and news, while OpenTable will serve up restaurant information and reviews.
You can also use Siri in iOS 6 to update your Facebook status and tweet, further integrating the two social networks into Apple's mobile operating system.
Siri in iOS 6 understands requests for sports fixtures and results across baseball, basketball, American football, soccer and hockey, and can also show stats on individual teams and players, as well as live scores from current games.
While Siri is passive, in that you have to ask if for information, Google Now takes the game a step further and becomes more alive, actively presenting you with on-screen cards that it thinks are relevant to your interests, combined with the time of day, date, location and your search history.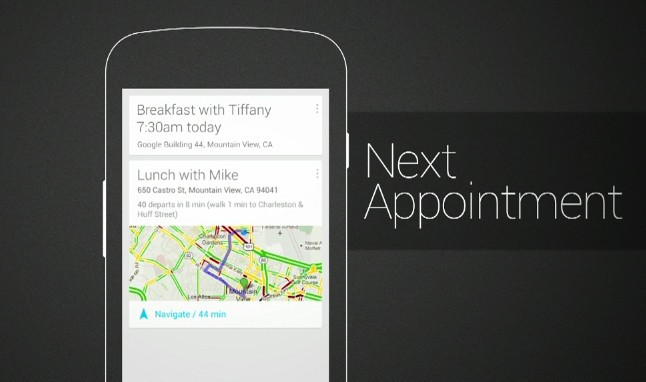 So while walking through central London, for example, you'll be given the local weather, transport information for buses and the Underground, and suggestions of local places to eat, alongside reviews.
An important difference between the two voice-activated systems is that Google Now can operate offline, without an internet connection.
Obviously, Google Now cannot find information to help answer your questions, but it can perform all other tasks offline, whereas Siri has to contact Apple's servers, even if all it wants to do is set up a reminder or answer you with a joke.
Verdict:
Picking a winner here is tough, because while Google Now promises to offer more, early reviews of Jelly Bean suggest that it is still a work-in-progress. Siri has a nine-month head start on its Google rival, so naturally it's going to feel like the more completed product - for now, at least.
iOS 6 vs Android 4.1: Maps
Mere days after Google showed off its new 3D maps and offline mode, Apple took its turn in the mapping game and revealed an all-new Maps application for iOS, ditching long-term partner Google in favour of TomTom.
Maps for iOS 6 features 3D buildings and landscape, but while hills and valleys are recreated everywhere, 3D buildings are currently only available in a select few cities.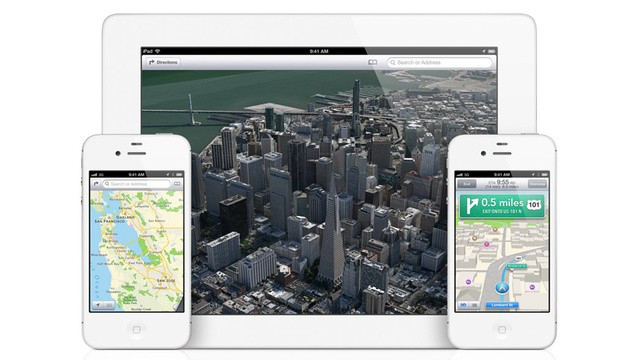 Of course, this is a very early beta and we'd imagine that Apple will have a lot more to offer when iOS 6 is released to the public around October.
From what we've seen so far, 3D buildings look good, in that they are all recognisable, and navigating around is fun, but they definitely lack the clarity and sharpness of Google's offering.
Along with 3D images, Apple has added turn-by-turn directions to Maps for iOS 6. Previously, Apple offered directions with help from Google, but we never considered this as a rival to proper Sat-Nav apps, such as those from TomTom and Co-Pilot.
Now though, turn-by-turn directions work just like any other sat nav unit, but the loss of Google Streetview is certainly a step backwards for Apple until it can come up with its own solution.
An advantage for Android 4.1 Jelly Bean is its ability to show maps offline, so you don't need to worry about your driving directions disappearing if you enter an area with no mobile coverage, and you can view maps abroad without incurring vast data charges.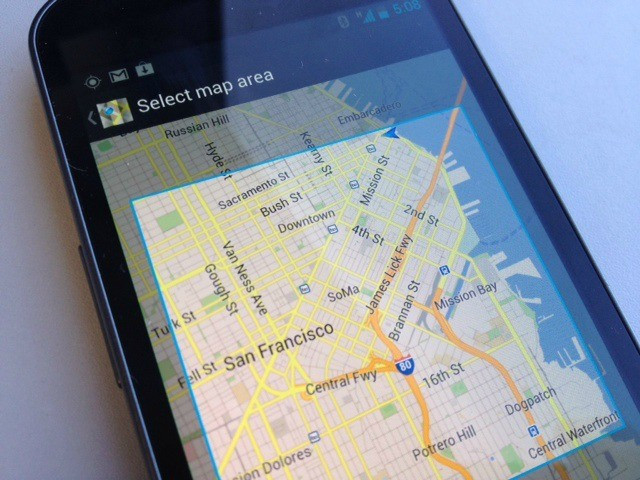 Taking maps offline is as easy as drawing a box around the town, city or country you want and downloading it to your phone. According to Wired, the entire city of San Francisco took up just 1.5mb of phone storage space, so you needn't worry about clogging your device up with maps.
Verdict
Ditching Google Maps was a brave move by Apple, and has resulted in the loss of Streetview. The maps in iOS 6 also seem less detailed, and while impressive initially, Apple's 3D maps are limited to around 40 cities for now and lack the detail we were hoping for - at least at this beta stage.
iOS 6 vs Android 4.1: Notifications
Both operating systems have made improvements to their notification systems, but the majority of these updates are small cosmetic changes. Of note, Google has added extra information to each notification, which can be shown by dragging down with two fingers - this, for example, shows previews of messages in your inbox, instead of just who the message is from.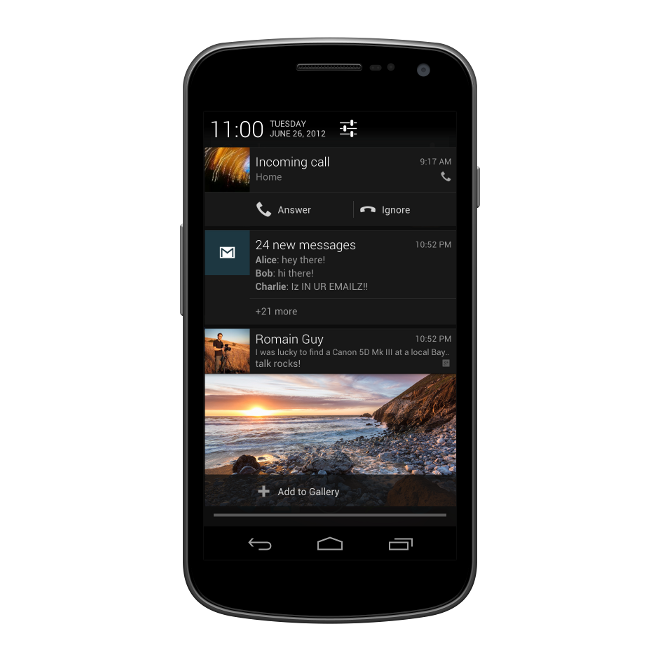 Jelly Bean's notification window also lets you control apps without going to them, so images that appear as notifications can be shared right away.
Google+ integration means that any image shared with your account can be seen full screen in the notifications drawer, but this isn't possible for Facebook and Twitter, which is a shame given the popularity of these services over Google's own social network.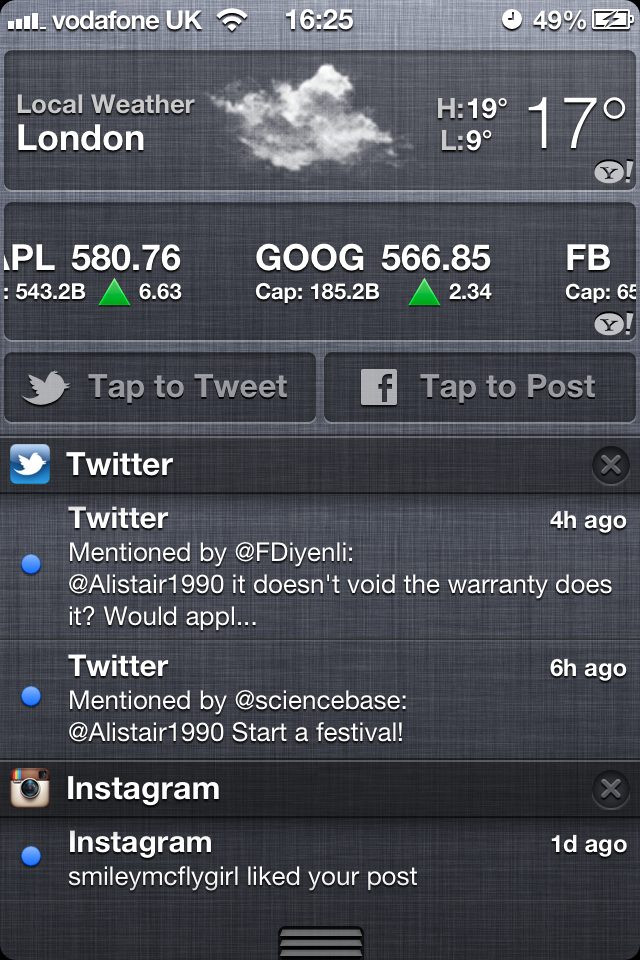 Over in iOS 6, Apple has added shortcuts to tweet and update your Facebook status within the drop-down Notification Center windows, further adding to the OS's social network integration.
Verdict
iOS was a little slow off the mark with how it handles notifications, and could be accused of copying Android when it finally added the pull-down drawer with iOS 5, but the addition of Twitter and Facebook shortcuts along with pushing alerts to the lock screen is enough for iOS 6 to claim victory.
iOS 6 vs Android 4.1: Social Networking
With iOS 6, Apple has added deep Facebook integration to sit alongside Twitter; this means that images, links and more can be easily shared on the two social networks without launching the individual applications.
Integration with Facebook and Twitter extends to your contacts, which can be synced with accounts to include their profile picture, birthday and a link to message them via Facebook in your address book.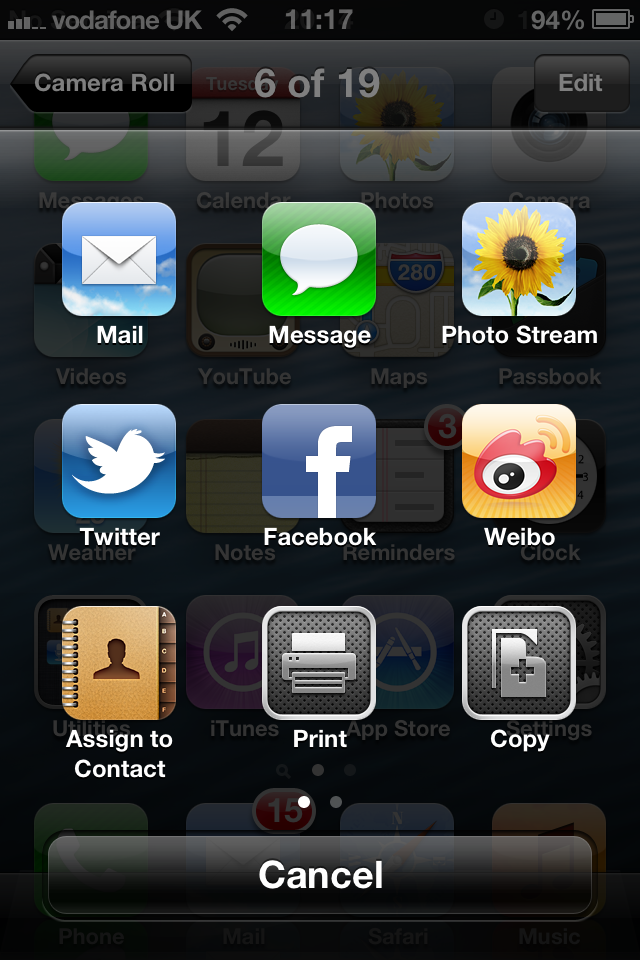 Apple has revamped the sharing menu in iOS 6, where before a list of 'Add to Home Screen', Mail, Tweet and Print appeared when you wanted to share a link, now you're greeted with a screen of icons for Facebook and Twitter sharing, wireless printing, add to reading list and more.
This all means you can share a website link on Facebook and Twitter from within Safari, and add your location to that too if you so wish.
With Android 4.1 Jelly Bean, Google has upped the ante even further, by releasing APIs allowing developers to have direct sharing access to applications like Gallery.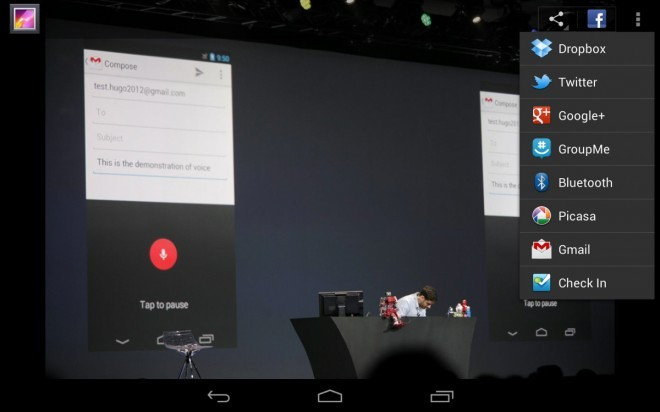 What this means, is that images can be shared from within Jelly Bean to Facebook, Twitter, Google+, GroupMe, Dropbox, Foursquare and more, whereas in iOS you have to visit each application separately to share an image.
Verdict
Adding deep Facebook integration to iOS is a good move by Apple, but Google's openness with Jelly Bean and its ability to interact with a wide range of social networks gives this point to Android.
iOs 6 vs Android 4.1: User Interface
While iOS has remained largely unchanged since its first incarnation - save for the addition of proper notifications management in iOS 5 - Android has seen gradual change throughout its life to help simplify the UI.
For Jelly Bean, Google has introduced a number of features under what it calls Project Butter to help make the user interface smoother, faster and more responsive.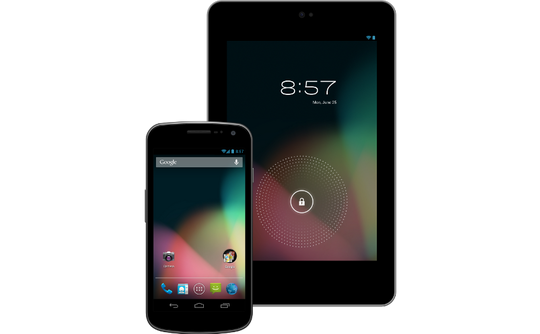 This has been done by maintaining a 60 frames per second screen rate across the whole operating system, as well as allowing the CPU, GPU and display to all operate separately, meaning that they don't have to wait for each other.
Also, the processor now ramps up to full speed as soon as you touch the screen, rather than when an app is launched, to help maintain a speedy feel throughout.
Apple has made very few changes to the iOS home screen since the iPhone was first revealed five years ago, with little more than changeable wallpapers, a new dock design and a few new applications.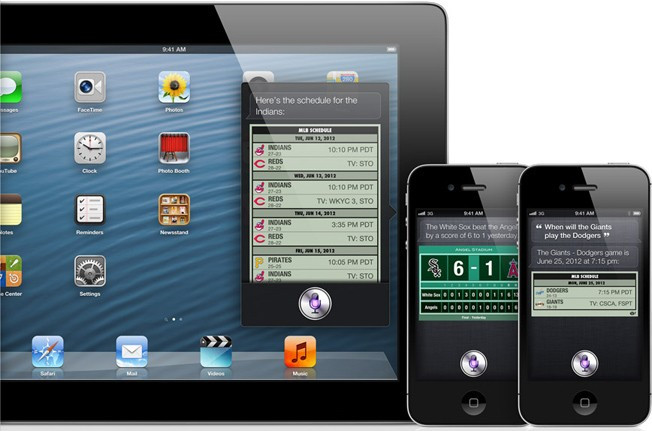 Android, on the other hand, has made changes with every update, and with 4.1 Jelly Bean Google has taken Ice Cream Sandwich and refined it even further to produce a clean and elegant user interface.
Verdict
Choosing one interface over the other is tough, as it is mainly down to personal preference. But what we can say is that Android has become much more user-friendly in recent updates, while iOS has remained almost unchanged, save for a few small alterations.
Back in 2007 iOS seemed like the perfect mobile operating system, but after five years of little change, we want to see something bold and new from Apple that will take iOS into a new generation.
From what we've seen so far, this point goes to Jelly Bean.
iOs 6 vs Android 4.1: Release Date
Android 4.1 Jelly bean will be available first on the Nexus 7 tablet, which is due to go on sale in the middle of July.while the Nexus S, Galaxy Nexus and Motorola Xoom will also get the upgrade at that time.
Apple has stated that iOS 6 will be available to the public in the autumn, so we're expecting to see it around October or November.
Must Read:
Which phones and tablets will get Jelly Bean, and when?
Google I/O 2012: As it Happened