Android Fragmentation Triples As Smartphone Markets Expands Globally
There are almost 12,000 distinct Android devices in use around the globe, up from less than 4,000 this time last year.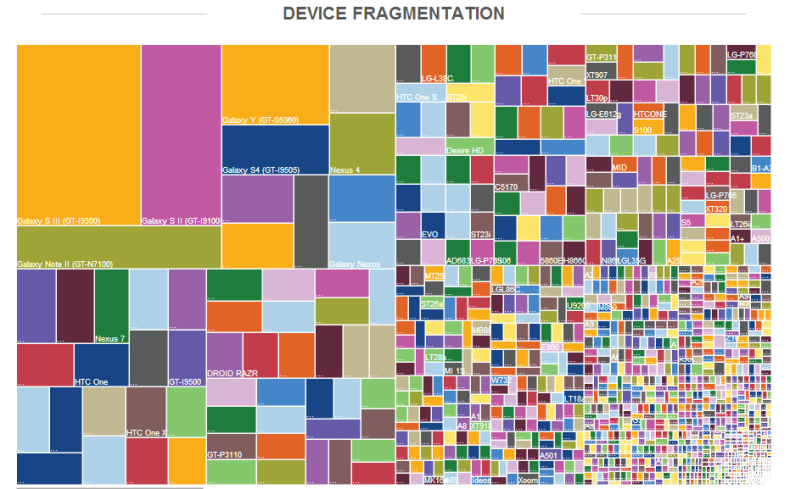 Android is a phenomenon. From its humble emergence five years ago, there are now 1.5 million smartphones and tablets being activated every single day and we will soon see the official activation of the one billionth Android device.
But a new report gives us a different insight into the Android eco-system, revealing the extent to which the market is fragmented which presents great opportunities for consumers, particularly in the developing world, it also presents many problems for app developers looking to create a consistent experience across all devices.
According to OpenSignalMaps, which published the report on Tuesday, its app was downloaded by 11,868 distinct Android devices this year, compared to 3,997 last year. The data is based on a sample of 682,000 devices surveyed, which is identical to the sample from last year.
OpenSignalMaps is a group mainly concerned with creating a comprehensive database of mobile phone towers, signal strength and Wi-Fi access points around the globe. The group does this through crowd-sourcing, getting members of the public to download an Android app which automatically uploads information regarding mobile phone towers and signals in your vicinity - as well as telling you how good (or not) your mobile broadband connection is.
Complained
Many developers have complained in the past about the fragmented nature of Android, and the extra time it takes to develop for such a wide range of smartphones and tablets, all running different versions of Android.
However the fragmented nature of the platform has also allowed it to flourish and allow developer reach consumers in parts of the globe they would never reach if they were only developing for Apple's iOS.
The information also gives a very clear indication of which company is dominating the smartphone market. As Nokia CEO Stephen Elop suspected when deciding to opt for Windows Phone over Android, Samsung is far and away the market leader in Android with a huge 47.6% market share.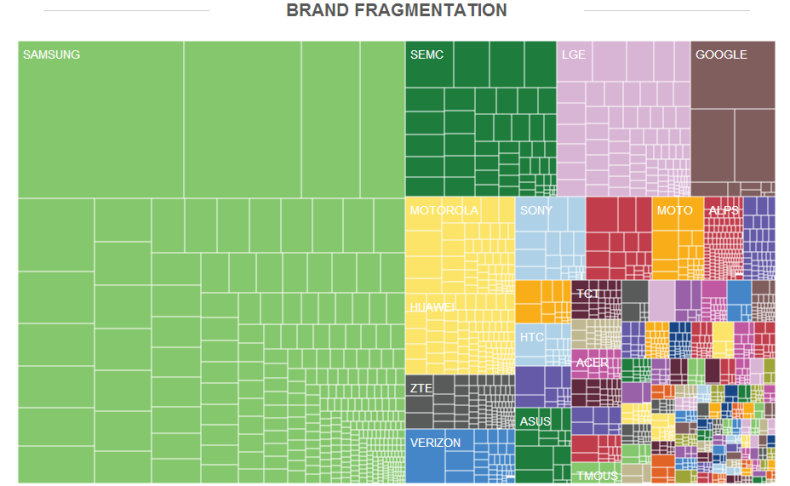 The next closest rival is Sony (or Sony Ericsson as some of its older phones are branded) with a 6.5% share with Motorola next on 4.2%. However the bad news continues for HTC, which earlier on Tuesday predicted its first quarterly loss since going public, only commands 3.9% of the Android market according to OpenSignalMaps data.
iOS vs Android
The report also serves to highlight just how different the Android market is when compared to Apple's iOS devices. In terms of version of Android currently in use, OpenSignalMaps has seen eight distinct versions of Google's OS still in use, with just 37.9% using the latest version known as Jelly Bean.
In comparison 95 percent of iOS users are using the latest version of Apple's software, iOS 6.

As well as having the challenge of having to code their apps to suit a plethora of screen sizes on Android devices, developers also face the challenge of working with manufacturers' own software UI which they place on top of Android - such as HTC's Sense and Samsung's TouchWiz.
Is fragmentation good or bad?
So, is having 12,000 distinct Android devices , running eight different versions of the software, with multiple screen sizes and additional manufacturer UIs on top, a good thing?
OpenSignalMaps has this to say in its report: "Device fragmentation is increasing, and with it the reach and density of the Android operating system. While fragmentation certainly poses a headache to developers who have to test and optimize on an ever-increasing number of devices, the success of the Android ecosystem cannot be separated from its fragmented, free-for-all, nature."
Indeed the report also refers to the probably launch of a budget iPhone in the coming months, which could be seen as further fragmentation of the iOS eco-system, and indeed as imitation of what has succeeded for Android.
"What is clear from this report is that Android fragmentation, of all varieties, is increasing. Too often this is treated as a problem with Android, rather than a strength, but we feel that this misses the bigger picture. While there are certainly problems associated with fragmentation (and as developers we know them all too well), it is wrong to suggest that it is only a downside," the report adds.