The MIUI custom ROM for the Sony Xperia S which is under closed beta has been leaked at xda-developers, according to Xperia blog. According to xda-developers, the features that are working include SMS, voice, wi-fi, camera and data (for few users). "The MIUI 2.7.6 ROM relates to Android 4.0.4 and will work for phones that have both unlocked and locked bootloaders, although you will need root access for the latter," explains Xperia blog.
As per reports, some people are facing issues related to data working, while others are finding it "difficult" to glide from the Chinese language setting to English or any other languages. Users are advised to fix it by editing the system/build.prop file. Google Play apps store can be downloaded from the Chinese MIUI store or by flashing Google Apps package (GAPPS).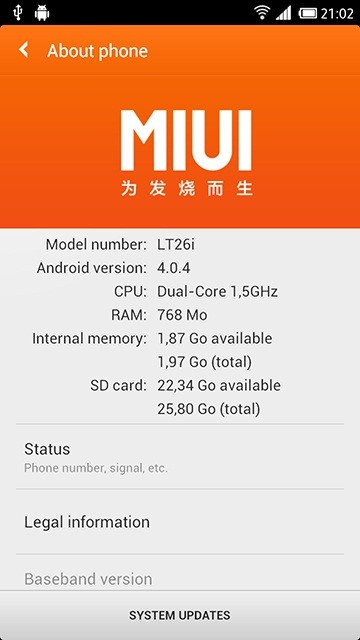 Back in June, the Xperia S received Android 4.0.4 Ice Cream Sandwich (ICS) update bringing new media apps. It features a Walkman app which lets users share their music with friends in an improved manner. Users can also playback the audio and video with high quality. The ICS upgrade enables users to resize the widgets and enhance lock screen feature along with the direct access to camera app. Xperia S users have faced issues relating to update of their handsets to ICS.
According to San Francisco Chronicle, Sony has admitted that it is aware of the issue. The company has released a statement claiming that few devices carrying an SI number had experienced difficulties when upgrading to the ICS.
"Our sources tell us that although some Xperia S users have experienced problems with the Ice Cream Sandwich upgrade, it's not believed to be a major problem. The issue was that, when some users attempted to upgrade their phones, they were met with a message saying that their handset was already running the latest Android version, given as Gingerbread 2.3.7., which is obviously not the latest," claims Dan Lim, editor of Xperiasprice website, according to San Francisco Chronicle.
"However, we can reveal that Sony are about to re-release the upgrade any time soon, which will let users download the correct version," adds Dan Lim. In addition, Lim claims that users should be patient and that they can obtain a lot from the new software which includes enhancements to user interface and improved battery life.